Bryan Pardo
Member, Design Research Council
Professor of Electrical Engineering and Computer Science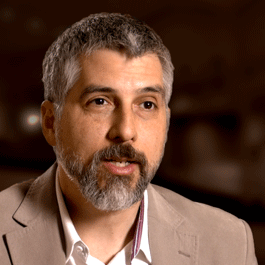 Contact Info
2133 Sheridan Rd., Room 3-323 Evanston, IL 60208
847-491-7184
Affiliated Programs
About
Bryan Pardo, head of the Northwestern University Interactive Audio Lab, is an associate professor in the Northwestern University Department of Electrical Engineering and Computer Science with an additional appointment in the Music Theory and Cognition Department.
Pardo has authored over 70 peer-reviewed publications and multiple patents. He has developed speech analysis software for the speech and hearing department of Ohio State University, statistical software for SPSS, and worked as a machine learning researcher for General Dynamics.
While finishing his doctorate, he taught in the music department of Madonna University.
When not programming, writing, or teaching, he performs throughout the United States on saxophone and clarinet at venues such as Albion College, Chicago Cultural Center, Detroit Concert of Colors, Chicago World Music Festival, Bloomington Indiana's Lotus Festival, and Tucson's Rialto Theatre.
Education
PhD, Computer Science, University of Michigan, Ann Arbor, MI
Master's of Music in Jazz and Improvisation, University of Michigan, Ann Arbor, Mi
Research Interests
Artificial intelligence, signal processing and interface design
Back to top