Malcolm MacIver
Member, Design Research Council
Professor of Biomedical Engineering
Professor of Mechanical Engineering
Director of PhD Admissions in Biomedical Engineering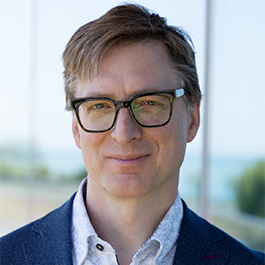 Contact Info
2145 Sheridan Rd., Room B292 Evanston, IL 60208
847-491-3540
Affiliated Programs
About
Malcolm MacIver believes that the body's mechanical intelligence can be just as important, if not more important, than what's going on in your head. His primary scientific efforts are in understanding how animal mechanics and sensory abilities fit together, and he pursues that problem using approaches from neuroscience, animal behavior studies, robotics, mathematical modeling, and computer simulations.
In engineering, MacIver has pioneered the development of a new sensor inspired by the ability of certain fish to sense using a self-generated electric field, and highly maneuverable propulsion systems based on fish locomotion.
In 2009, he received the Presidential Early Career Award for Science and Engineering from President Obama at the White House, the highest award given to emerging scientists by the government.
He develops science-inspired interactive art installations that have exhibited internationally, has served as science adviser for several science fiction television series and movies (the Battlestar Galactica prequel Caprica, Tron: Legacy, Superman, and Man of Steel), and has been a blogger for Discover Magazine.
Education
PhD, Neuroscience, Univeristy of Illinois at Urbana, Champaign, IL
MA, Philosophy, University of Toronto, Toronto, ON
BS, Computer Science, University of Toronto, Toronto, ON
Research Interests
Neurobiology of sensorimotor integration; biomechanics; bio-inspired robotics
Back to top