Emma DeCosta
Associate Professor of Instruction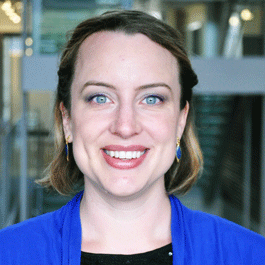 About
Emma obtained her PhD in Materials Science & Engineering with a focus on nanotechnology at the University of Wisconsin-Madison.  With an eye towards a career in teaching, she then joined the Northwestern's National Center for Learning & Teaching in Nanoscale Science and Engineering, where she worked with high school teachers to integrate nanotechnology into their science curriculums, and also taught engineering design and communication to Northwestern freshmen. 
Wanting to obtain real-life experience in design with which to enrich student experiences, she sought a job in industry, and went to work at NanoInk, a Northwestern nanotechnology start-up, first an applications engineer, eventually running design projects and finding new markets and unmet needs as a product manager. 
Emma is excited to bring her education, mentorship, industry experience, creativity and passion to bear in helping McCormick students discover, develop and build a successful and satisfying McCormick experience.
Education
PhD, Materials Science and Engineering, University of Wisconsin, Madison, WI
BS, Materials Science and Engineering, Massachusetts Institute of Technology, Cambridge, MA
Research Interests
Emma Tevaarwerk DeCosta is an Associate Professor of Instruction and McCormick Advisor working mainly with first-year students. She is a core faculty member teaching Design Thinking and Communication, and also teaches courses in the Materials Science & Engineering Department. Her areas of research interest include the use of analytics to guide changes in advising practices and policies, as well as use of personal response systems across different academic settings.
Back to top