Events
Professional Development Series: Team Dynamics/Leading and Working on Effective Teams
McCormick School of Engineering and Applied Science
12:00 PM
//
101 Wildcat Room, Norris University Center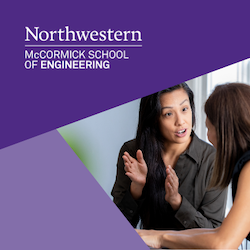 Join us for a series of professional development events hosted by McCormick HR. The first fall event of the series will focus on team dynamics.
This session is an interactive program covering a framework of best practices and skills in building and leading a team that performs with excellence. The objective of this session is to provide tools that will enhance communication between team members, clearer understanding of what's expected, and increased accountability for both the leader and the team member.
This event is voluntary and open to all Northwestern Engineering staff, faculty, postdocs, and research staff.
If you have questions or accessibility needs, please contact Kimberly Higgins.
Training provided by Cindy Aaronson, Organizational Consultant and Trainer with CSA & Associates.

click to see full description

more
click to hide full description

less
Wednesday, September 27, 2023 at 12:00 PM - 1:30 PM
101 Wildcat Room, Norris University Center Map
McCormick School of Engineering and Applied Science