Events
Data as Art opening reception
Segal Design Institute
5:30 PM
//
Atrium, Ford Motor Company Engineering Design Center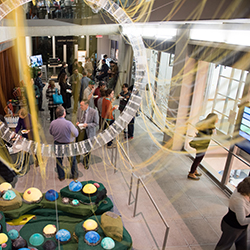 Data as Art is a course co-taught by faculty from the School of the Art Institute of Chicago (SAIC) and Northwestern Engineering during the fall term. In this course, students from both institutions work across multiple disciplines to engage in a critical dialogue about information visualization and to conduct collaborative research using data sets.
The final projects represent data on a platform of visual art. Data as Art culminated in an exhibition of the projects at SAIC's LeRoy Neiman Center where the students' work was on display in December.
Now it is Northwestern's turn to welcome the exhibition, which will be on display in the atrium of the Ford Engineering Design Center for the next month.
There is an exhibition opening reception on Friday, January 26 from 5:30pm until 6:30pm, with remarks by the students and faculty who participated in the course. Refreshments will be served.
click to see full description

more
click to hide full description

less
Friday, January 26, 2018 at 5:30 PM - 6:30 PM
Atrium, Ford Motor Company Engineering Design Center Map