Events
Segal Seminar Series: Stefanie Mueller, MIT
Segal Design Institute
4:00 PM
//
LR5 Technological Institute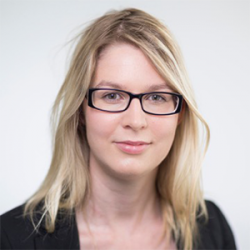 Stefanie Mueller, assistant professor of Human Computer Interaction at MIT, visits Segal to meet students and give a seminar on her work.
Talk Title: Interacting with Personal Fabrication Machines

In anticipation of 3D printers reaching millions of users, I am investigating how to allow future users to interact with the new hardware. I present a series of interactive software+hardware systems that I created to answer this question. They are characterized by two main properties. First, they produce physical output quickly, allowing users not only to see their results, but also to touch and test their mechanical properties as users work towards a solution. Second, the systems allow users to interact directly with the workpiece, i.e., rather than using a digital 3D editor, users manipulate the workpiece located inside the 3D printer by pointing at it, causing the machine to then modify the workpiece accordingly. I put my research into perspective by drawing analogies to the evolution of interactive computing from batch processing, to turn taking, to direct manipulation.
Bio:
Stefanie Mueller is an assistant professor in the MIT EECS department, joint with MIT MechE, and a member of MIT CSAIL. In her research, she develops novel hardware and software systems that advance personal fabrication technologies. Stefanie's work has been published at the premier venues for Human-Computer Interaction ACM CHI and ACM UIST and has received several Best Paper and Honorable Mention Awards. Stefanie is also serving on the ACM CHI and UIST program committees as an associate chair. In addition, Stefanie has been an invited speaker at universities and research labs, such as MIT, Stanford, Berkeley, Harvard, CMU, Cornell, UW, ETH, Microsoft Research, Disney Research, and Adobe Research.
http://stefaniemueller.org/
click to see full description

more
click to hide full description

less
Tuesday, May 30, 2017 at 4:00 PM - 5:00 PM
LR5 Technological Institute Map