The Push for More Sustainable Medicine
Through a life cycle assessment of existing medical kits, Jennifer Dunn and Northwestern design and engineering students unlock opportunities to improve sustainability in the healthcare sector.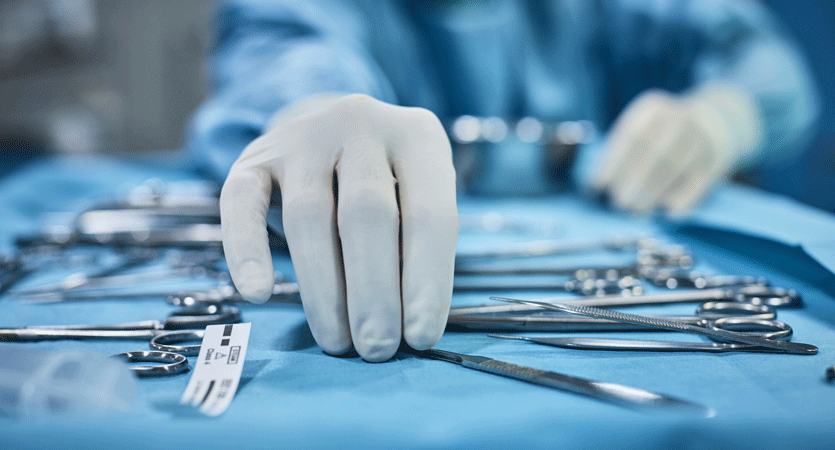 Lila Slattery is doing her part to create a more sustainable world.  
In an undergraduate research project overseen by Jennifer Dunn, associate professor of chemical and biological engineering at the McCormick School of Engineering, Slattery is applying lessons she's learned in materials science, mechanical engineering, and analysis courses to improve the healthcare sector's environmental footprint.  
Specifically, Slattery is conducting a life cycle assessment (LCA) on a stereotactic kit, a common, non-surgical method of assessing a breast abnormality.   
"This has been an amazing opportunity to put my education to use in a real-world setting," said Slattery, a junior studying Manufacturing and Design Engineering (MaDE) at the Segal Design Institute. 
Analyzing radiology kits 
Last winter, Northwestern Memorial Hospital (NMH) associate professor of radiology Tarek Hijaz, a member of the American College of Radiology's Task Force on Environmental Sustainability and Climate Change, and resident Marlee Crews contacted Dunn to initiate LCAs on three different radiology kits used in the hospital's radiology department. 
Dunn, director of the Northwestern-based Center for Engineering Sustainability and Resilience, has become a go-to partner for such work and often involves undergraduates in projects. Last fall, for instance, she led two student teams enrolled in her Quantitative Methods in Life Cycle Assessment course through assessments of pediatric surgical kits used at Chicago-based Lurie Children's Hospital. 
In her LCA on the radiology department's stereotactic kit, Slattery began by inventorying the kit's components before examining each item's material composition, including its packaging, as well as its clinical usage, as some items might rarely, if ever, be used. Slattery is also reviewing the amount of energy required to manufacture each item.  
Her undergraduate colleague, junior biomedical engineering major Ting Ting Li, has been doing the same work on MRI and ultrasound biopsy kits. 
"A million people get breast biopsies each year and over half are completed using one of these three kits, so improving the sustainability of these kits is a step in the right direction," Slattery said.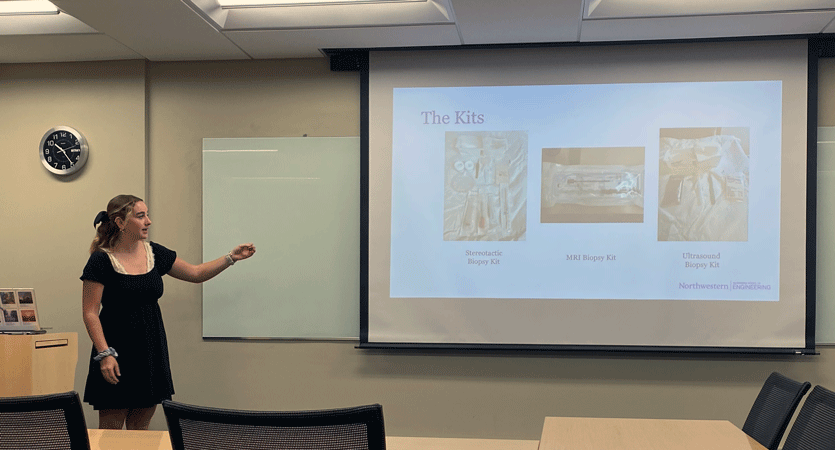 Moving toward more sustainable solutions 
Working directly with medical tools and interfacing with clinicians has forced Slattery to think about design on a systems level and to apply her knowledge to a problem plaguing medicine and with significant implications for human health. 
In the US, the healthcare sector accounts for eight percent of greenhouse gas (GHG) emissions. The World Health Organization, meanwhile, has labeled climate change "the single biggest health threat facing humanity," with extreme weather events, diminished air quality, and other worsening environmental conditions capable of adversely impacting humans' physical and mental health. 
LCA work on medical kits is one path to decreasing the healthcare sector's wasteful ways and enhancing sustainability. Ultimately, Dunn and her student researchers hope to offer their NMH partners recommendations on improving or re-engineering the radiology kits to reduce their environmental impact while upholding patient care and safety.  
"If there's a better way, that's what we want to highlight," said Dunn, adding that engineers, materials scientists, designers, and other inventive professionals can collaborate on more sustainable solutions when they hold a deeper understanding of key problem areas and environmental culprits from thorough LCAs. 
Supporting that mission has been especially appealing to Slattery, an undergraduate learning to apply classroom knowledge to clinical settings and eager to ignite change.  
"I'm using my MaDE brain and what I've learned about product construction to define a better, more sustainable path forward, which has been incredibly exciting," Slattery said.