DTC Student Teams Revamp the Registrar's Office 
Design Thinking and Communication students propose ideas to modernize the Registrar's office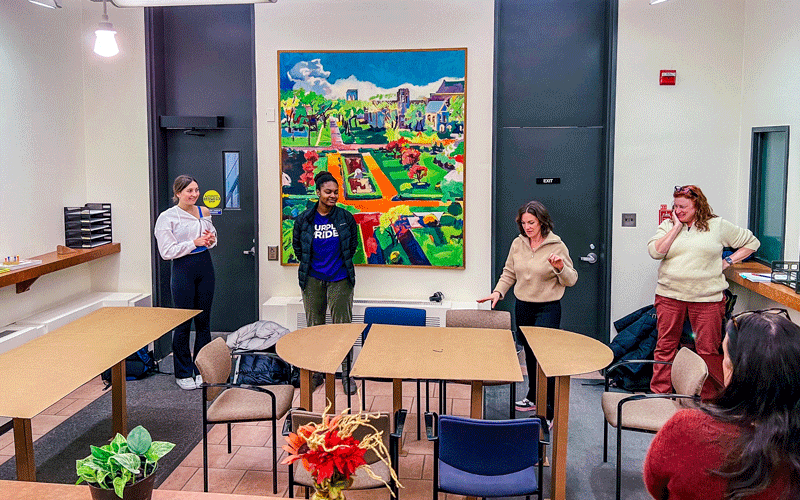 Jaci Casazza knows a thing or two about change. She's seen a lot of it over the past decade as Assistant Provost and University Registrar. Since she took the helm of the Registrar's Office in 2011, most University records are kept and issued digitally. The pandemic reshaped the Registrar's on-site staff into an almost entirely hybrid workforce. The office's physical space, however, has remained the same since it was built in the '60s. 
"We wanted to think of ways to change the office structure to reflect all the change that's happened in the last 10 years," Casazza said.  
Casazza turned to students in Design Thinking and Communication (DTC) for solutions. 
Four DTC student teams tackled the challenge of revamping the Registrar's office space. During the Winter 2023 Quarter, students met with Registrar's Office staff, generated ideas, received feedback, and prototyped solutions. Their ideas ranged from retrofitting sliding doors and privacy screens on cubicles to adding customizable, modular meeting tables.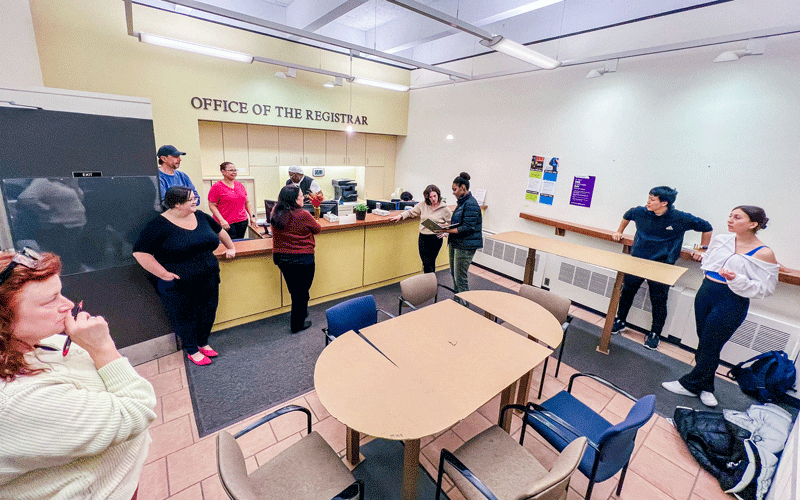 Designing possible solutions to real design problems — like the teams who worked with the Registrar's office — is what every engineering student experiences during their first year at Northwestern. DTC is a required two-quarter course taken by every Northwestern Engineering first-year student, and it's taught by faculty throughout the McCormick School of Engineering and the Cook Family Writing Program at Weinberg College of Arts and Sciences.  
The learning-by-doing program, which celebrated 25 years this fall, immediately exposes students to design thinking and communication skills. In DTC classes, students receive design problems submitted by project partners (individuals, nonprofits, entrepreneurs, and industry members), develop solutions to those problems, and present their solutions. Over the past quarter-century, DTC students have designed solutions for partners across Chicago, including Shirley Ryan AbilityLab, the Shedd Aquarium, Kids in Danger, Lambs Farm, and more.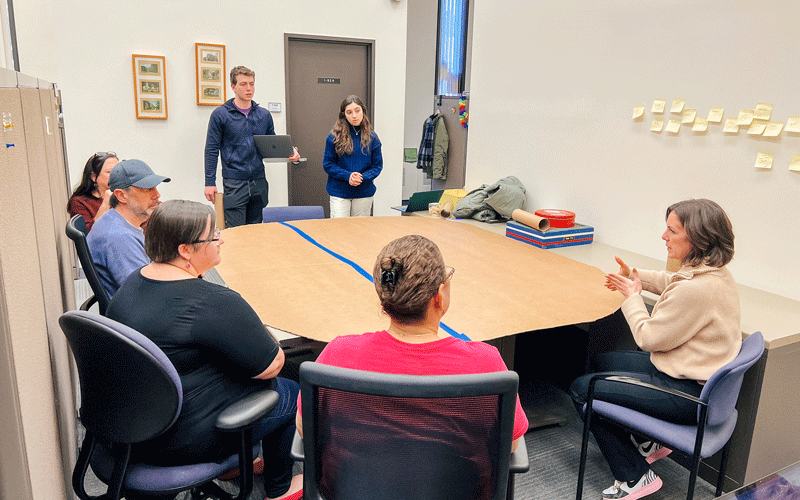 To address the Registrar office's need for collaborative spaces, one student team came up with the "Modu-Table," a table system that can be used as a 12-person conference table, split into three smaller, four-person tables, or easily pushed aside when not in use.  
"One of the problems this team had is they have a large lobby area but only one small meeting space," said Leah Kollo ('26). "As a team, we wanted to make sure they have a meeting space that could be flexible, meaning they could have a large meeting and small meeting when necessary." 
Another student team came up with a "Slide-icle," a partition that allows users to adjust the height of their cubicle wall. The idea is to help users easily signal to their teammates that they are available to talk or need some privacy.  
"I love that you're thinking of the worker and the social cues you send to your colleagues," Casazza told the student team during a presentation. "Sometimes it's awkward to do in an office, but this solution addresses that problem."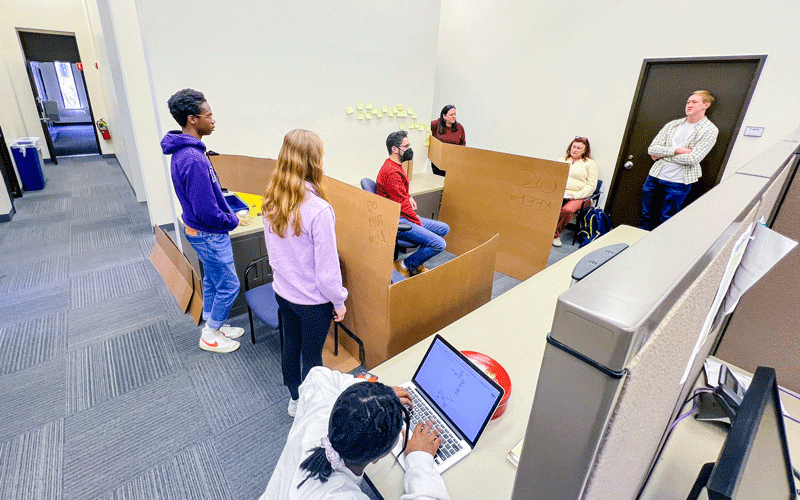 The need for flexible work environments was tackled by two other DTC teams. One team proposed retrofitting a sliding door on cubicles to signal when they want quiet time or when social interaction is wanted. And another team, seeking to address a need for a place to gather as well as a hybrid meeting space, proposed a room with customizable furniture, a tabletop port for AV equipment to include remote participants, and a small kitchenette to facilitate potlucks. 
"By getting to know the Registrar's office staff and its processes, students could base their designs in employees' real needs and wants," said Barbara Egel, DTC instructor. "Their final designs, reports, and presentations showed how much energy they put into centering the human users in the design process." 
"Each team did a wonderful job noticing the tensions and trade-offs you make in design," said Kim Hoffmann, DTC instructor. "They were able to address different points of view and tie in themes of modularity and customization that are becoming more and more present in hybrid settings." 
See past DTC projects, and learn more about becoming a DTC project partner.