Forming Memories
During Northwestern's fourth annual Iron Pour, students, faculty, and staff participated in a centuries-old manufacturing process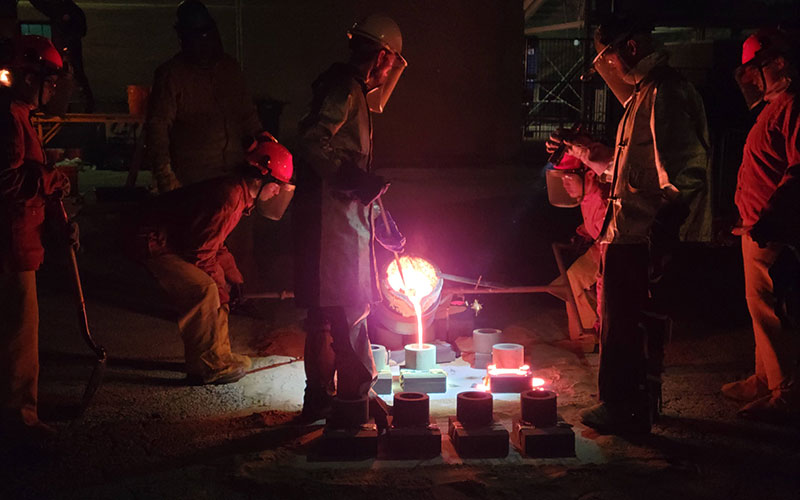 The ideal weather conditions for an iron pour are sunny, clear skies. Water and hot iron don't mix well: in fact, the combination sparks an explosion.  
So, when it rained all day on Friday, May 6, professors Matthew Cummins and David Gatchell knew they needed to pivot. They had planned to prepare nearly 40 3D-printed sand molds before Northwestern University's fourth annual iron pour the next day, but the molds needed to be as dry as possible. They would need to wait until the next morning and complete the prep in one day.  
In a true show of teamwork, Cummins and Gatchell were joined by 15 students from the Segal Design Institute's DSGN 395-64: Leonardo, Geometry, and the Art of Manufacturing class, taught by Cummins and Gatchell. The students, instructors, and staff worked together on a sunny Saturday in a parking lot adjacent to Ryan Field (the "N Zone") to prepare their self-created sand molds and even customize new scratch molds with sculpting tools in the moment.  
Their collaboration, and the dry conditions, meant the evening's event went on as planned and their iron pour was a success — a memorable experience marking the end of the course that gave students a hands-on appreciation for a centuries-old manufacturing process.  
An appreciation for what it means to make 
At the beginning of the course, students explored Leonardo da Vinci's geometric studies and examined historical artistic and industrial processes. They also produced sculptural objects in a range of materials and traveled to local manufacturing companies, including Scot Forge Company, a leading manufacturer that forged the wheels of NASA's Mars Rover. 
The iron pour is a collaboration with Chicago Crucible, a team of foundry art experts from the School of the Art Institute of Chicago, and three companies that supply the materials: Hoosier Pattern in Fort Wayne, Indiana, supplied the molds; Weil-McClain in Michigan City, Indiana, supplied the iron; and Suncor Energy in East Chicago, Indiana supplied the energy source that fueled the furnace.  
This year, students melted more than 1,000 pounds of iron for more than 90 minutes.  
For Gatchell, it's a moment he hopes students will never forget. 
"When you look inside the furnace, it's like looking into the sun. It's a brilliant orange yellow that's almost electric in nature," said Gatchell, director of the Manufacturing and Design Engineering (MaDE) program. "Combine that with having to focus on controlling the flow of 100 pounds of iron pouring out of a 2,700-degree furnace into a cup that's smaller than a solo cup, and it's a feat. 
"Students today are so used to multitasking that when they're participating in something that captures 100 percent of their attention, it's special. We hope it will stimulate curiosity in sand casting, forging, and other types of manufacturing."  
Molten iron lives up to the hype
Mohammed Issa (MaDE '22) remembers hearing about the class when he visited the Northwestern Tech Expo (now Northwestern STEM Career Fair) during his first year at the University. He visited a table where students displayed their iron pour work, and he remembers being fascinated by the intersection of art and engineering. "I thought, 'When I'm a senior, I'm definitely taking this class,'" Issa said.   
Fast-forward to his senior year, and Issa is glad he made good on his promise.  
"It was incredible. The pictures don't do it justice," Issa said. "It was easily one of the coolest experiences I've had in my four years here." 
Olivia Johansson (MaDE '23) wasn't sure the iron pour would live up to the hype. She heard instructors and students who participated in past iron pours talking about it, but she needed to experience it herself. As a student interested in manufacturing, she was not disappointed.  
"You don't get to experience molten iron being poured every day, so it was really awesome as an undergraduate to have an experience like this," Johansson said. "It was also neat to work with the wonderful team at Chicago Crucible and to see my classmates in person who I'd only seen on Zoom or in masks.  
"You can only learn theory for so long. Seeing it in practice was so cool."