Segal Design Institute Hosts San Francisco Design Week Panel Discussion
Panel discussion explored role of design in technology, health, and civic life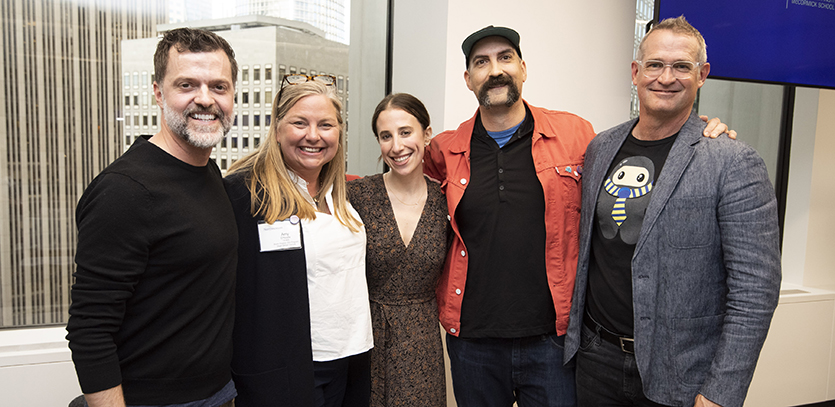 Segal Design Institute hosted a panel discussion as part of San Francisco Design Week on June 26.
Titled "Designing for Millions, Designing for 1," the event took place before an audience of nearly one hundred Northwestern alumni, current students, and members of the public at Northwestern's San Francisco campus.
Greg Holderfield, director of the Segal Design Institute and the Pentair-D. Eugene and Bonnie L. Nugent Clinical Associate Professor of Mechanical Engineering, welcomed the audience. 
Holderfield then introduced the panel moderator, Professor Jim Wicks, Director of the MS in Engineering Design Innovation (EDI) program. Before taking the helm of the EDI program, Wicks was a design leader at Sony, Motorola, Google, and Lenovo.
"The theme for San Francisco Design Week is community and we thought it would be great to talk about some of the unexpected and unlikely opportunities to create innovation," explained Wicks. "Collaborations aren't always as they're designed. Opportunities come from anywhere and, in the spirit that, we thought it would be fantastic to bring this panel together to talk about some of the opportunities that we might see and some of the challenges that we're seeing when we start to look at designing services across things like health, civic life, and technology."
The panel consisted of Chris McCarthy, Vice President Strategy & Design at Hopelab, Jason Kunesh, Design Director with the City of Chicago, and Lauren Steingold, Head of Strategy for Uber Health, which is part of Uber.
The panelists engaged in a dynamic conversation about unexpected partnerships and opportunities that arise while designing services to positively impact people.
Creating Health Communities
Steingold's work at Uber Health has served as a way to explore the role of technology and design in creating healthy communities. 
She started at Uber six years ago with some healthcare-related experience. Initially, her role was devoted to launching new markets across the East Coast, but her focus narrowed to health care access.
"It was very clear to me early on that there was a lot that we could be doing to improve access to care," said Steingold. "I knew that transportation was a barrier to care."
Steingold worked with a team of engineers at Uber to create a HIPPA-compliant app that allows health care organizations to schedule transportation for patients in need. Uber Health began testing a beta version of the product with 100 health care organizations in July 2017. 
"We tested it for an eight-month period," explained Steingold. "We took their feedback and we optimized the product accordingly. We launched in March of 2018 and now we have over a thousand health organizations using the product across the US and we're thinking about new ways to scale."
Design and Technology Social Innovation
McCarthy has been working in the healthcare industry for over twenty years, starting at Kaiser Permanente where he led a team that built innovation and design infrastructure at the national level. In 2017, McCarthy joined Hopelab, a social innovation lab focused on designing science-based technologies to improve the health and well-being of teens and young adults. 
When asked about the role of design in health care, McCarthy called for shifting the emphasis in health care from patient-centered to human-centered. 
"I use human-centered design in the broadest way of using it," said McCarthy. "I fundamentally believe that we need to design for all humans who are touching this thing, whatever that is. So we're trying to optimize the relationship between patient and the nurse and whatever we create needs to be equally lovable and usable and efficacious for the nurse and for the patient. There's a big movement about being patient-centered and I actually think that's the wrong lens. And I think we actually need to be fully human-centered and instead bring [patient and provider] together as a relationship."
Design Thinking in Civic Service
Kunesh was hired as the first-ever Design Director for the City of Chicago in 2018. 
This past winter, his team collaborated with the MS EDI program to explore civic service design and Kunesh explained how they leveraged design thinking to find new entry points to city services for residents.
"[That] really unique collaboration that we did with a bunch of EDI students is still percolating through the city," said Kunesh. "The partnership with EDI was awesome because we got some great strategic ideas that are still informing things. If you're an immigrant or if you're at risk, you may not really know if you can actually work with city government directly to help create some awesome interventions. We're doing a lot of that kind of work to figure out what does it mean for a city to provide services to over hundred and forty different recognized ethnic groups—and what does it mean for us to do that with equity and to meet people where they are?"
Wicks concluded the evening by thanking everybody for joining in the event and acknowledging the successful turnout. 
"Segal Design Institute and the EDI program are thrilled to have such engaged partners and to have such a strong community in the Bay Area come together for San Francisco Design Week," said Wicks.