Student Perspective: Bay Area Immersion Experience
Milan Samuel '18 writes about her experience in the Bay Area Immersion Program.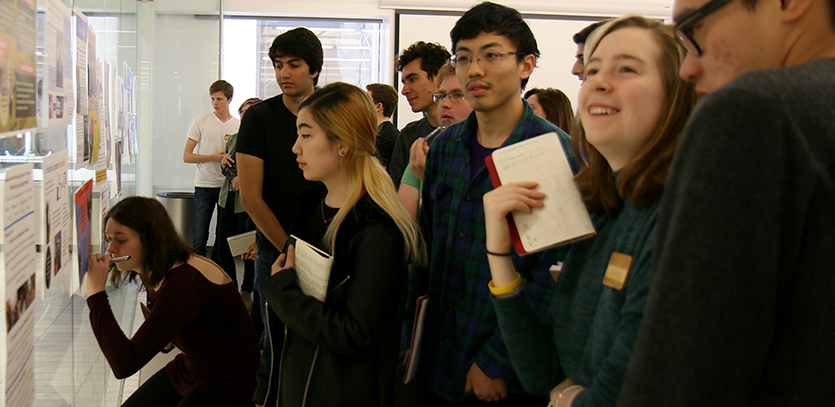 Milan Samuel '18 is a junior in the Manufacturing & Design Engineering (MaDE) program administered by the Segal Design Institute. This past quarter, Milan joined a cohort of Northwestern students at the university's new campus in San Francisco for the inaugural Bay Area Immersion Program. Approximately half of the students in the program are part of the McCormick School of Engineering and half of the students are part of the Medill School of Journalism, Media, Integrated Marketing Communications. Design innovation courses in the program were taught by faculty affiliated with the Segal Design Institute. This is Milan's perspective on the program.
Growing up in the Bay Area certainly led to hearing my fair share of Silicon Valley buzzwords. But no amount of "startups," "disrupts," or "innovates," could have prepared me for the wonderful chaos that was this past winter quarter.
I was initially hesitant to apply to the Bay Area Immersion Program. The intersection of design, journalism, and entrepreneurship that brings together 23 students from McCormick, Medill, and SESP intrigued me as it meant a break from my traditional (read: dry) McCormick core classes, but I wasn't quite sure that I was ready to leave Northwestern for a quarter. Plus, as a junior, many of my friends went abroad in the fall and I knew that participating in this program meant I wouldn't see them until the spring. The first week of the quarter, however, erased all of my fears.
In the first week alone, we had already met our partner startups for our Silicon Valley culture class, visited Heath Ceramics factory (and more importantly, had a fantastic meal at Tartine bakery), traveled all over the city hunting for letters in everyday objects, and participated in critical analyses of the role that Google plays in our lives. In a stark contrast from my typical routines in Evanston, no two days were the same during all 10 weeks.
The biggest strength of the program is how it simulates a startup in its own meta way. Spending extended amounts of time with the same group of people, studying in the beautiful Northwestern SF campus space, facing uncertainty in our assignments and schedules—it all sounded like the startups that we studied, visited, and worked with. Add field trips and visitors from IDEO, GoPro, Intuit, and Google—to name a few—and you've got a true Bay Area immersion experience.
Whether it was interning for startups working towards verifying news or bursting filter bubbles in Professor Parker's class, building our communication design skills through data visualization or tackling political engagement for Facebook or Matter VC through Professor Gerber and Anthony Jakubiak's design classes, or critiquing Google's omnipresence in our lives in Professor Youngman's course, Northwestern's Bay Area Immersion Program was nothing short of a whole-brain experience. I can only hope to be able to take Professor Gerber's advice to heart and incorporate the joyful learning experience from these classes to my courses when I return to Evanston.