MPD²​ Students Design New Products for Home
Graduate students present capstone projects to investors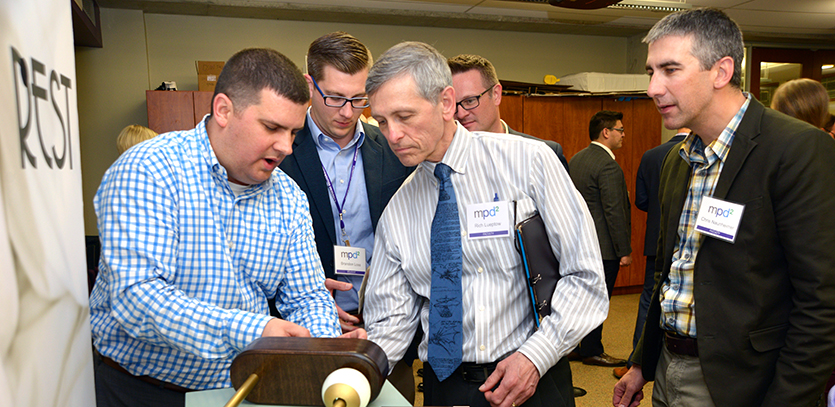 On June 2, students in the Master of Product Design and Development (mpd2) program presented their capstone projects before an audience of potential investors, faculty, and advisory board members. The presentations took place at the Ford Motor Company Engineering Design Center on Northwestern's Evanston campus.
Prompted to design a new product for the home, six teams of students designed products ranging from a kitchen appliance to a multifunctional lamp to a storage subscription service.
With guidance from Richard Lueptow, professor of mechanical engineering, the students integrated what they had learned throughout the program, including industrial design, market research, and finance.
The capstone projects included: govo, a smart self-care case for women struggling with infertility; REST, a multifunctional bedside light and sleep aid; Relay, a personal cart; Counterchef, a three-level induction cooking appliance; Catalyst Kids, a kit that connects parents and children through cooking activities; and Stash, a subscription service that provides on-demand storage
"One of the most impressive changes in this year's products is the integration of smartphone apps into the products," said Lueptow. "The Stash product is built around an app-based delivery and storage service. This is the first truly service-based product developed in [this program]." 
Brandon Loss, an mpd2 student, described how the program expanded his skill set.
"Having operated in a product development role for several years, I was familiar with the various stages of the process," said Loss. "However, this program took me out of my engineering silo and made me walk a mile in the shoes of a designer, ethnographer, and marketer."

Tracy Dubas, an mpd2 student, added that she had learned the value of teamwork during the program.
"Through this program, I realized how valuable collaboration is," said Dubas. "Just as any new product has physical components that have to come together, like hinges, springs, and circuits, so too does the product development process rely on multiple people's strengths and perspectives."