MMM Student Powers New Energy Company
Entrepreneur Sophia Wennstedt (MMM '22) shares how blip energy got started and explains the value of the company's first product, the blipOne smart battery.
Sophia Wennstedt (MMM '22) remembers talking with friends in California who shared their frustrations about being renters during wildfire season. In recent years, electric companies like PG&E and Southern California Edison preemptively cut power to California customers during dry seasons to help mitigate the risk of power lines starting a fire, and Wennstedt's friends had no options to combat the rolling blackouts.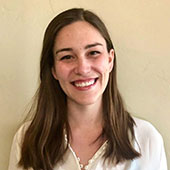 What they said was a problem actually sounded like an opportunity to Wennstedt. In early 2020, she was enrolled in NUVention Energy, a course that helps students understand the opportunities and challenges they'll face as they try to create a business around technologies or services that meet a market need and have a positive environmental impact. Wennstedt connected with three of her classmates to discuss the possibilities of designing a portable battery backup made specifically for renters.  
"We started looking into the market and found a gap around affordable energy storage for renters and residents of multi-unit buildings," said Wennstedt, who is a second-year student in MMM, a dual-degree program between Northwestern Engineering and the Kellogg School of Management.
With that, blip energy was born.
The mission of blip is to create the most accessible smart home battery. The company's first product — the blipOne — is a smart battery that stores 2.2kWh of backup power — enough to power a refrigerator for one to two days or a laptop for weeks — in a sleek, compact package. It's a  solution for apartment-dwellers who want a backup power source but don't have the option for a permanent option like a backup generator.  
Beyond being a convenience for this audience, the blipOne helps fight climate change by moving toward electrification and renewable energy sources. An innovative feature of the blipOne is how it stores power: it charges during the day when energy is cheap and offloads power when energy is expensive, which saves renters money.  
"With blip, we're reaching a new set of customers and households by building a battery that works for anyone in any type of home, at an unprecedented price point," said Wennstedt, who is balancing being CEO and a full-time student.  
Wennstedt and her cofounders introduced blip at VentureCat 2020, Northwestern's annual student startup competition. The team took first place in the energy and sustainability category, and received a group of graduate and undergraduate interns who helped build a prototype and prepare the blipOne for public launch.
Wennstedt launched a fundraising campaign for blipOne this fall and hopes to ship the first units in summer 2022. She said the company would not have gotten off the ground if it weren't for her experiences in MMM.
"A new technology or idea isn't necessarily a good solution if it doesn't solve a real and sticky pain point," said Wennstedt, who was named to Forbes' 2022 30-under-30 Energy list this fall. "MMM students understand how critical it is to solve the right problem for the right set of people. Human-centered design puts in the leg work up front to make sure the problem is well defined - which leads to better solutions."  
Wennstedt practiced designing solutions in a real-world setting during Research - Design - Build and Business Innovation Lab, and she continues to apply the lessons learned in Digital Design and Development to manage the software interns on the blip team.
"MMM gave me the tools and skills to make design decisions about what to build, for whom, and why," she said. "The foundational MMM courses helped me gain experience and confidence interviewing individuals, identifying their pain points, and designing solutions."
The curriculum is only part of the value Wennstedt receives from MMM. The program also provided her with a cohort of professionals with diverse backgrounds that was ideal for testing ideas and getting feedback.
"Having that crew to bounce ideas with, test designs, and support one another has been integral to my Kellogg experience," she said. "I wouldn't have kept my sanity starting this company without their support."