Bringing Human-Centered Design Home
Claire Henderson (MMM '18) shares how Northwestern's MMM Program prepared her to lead the innovation team at Zillow.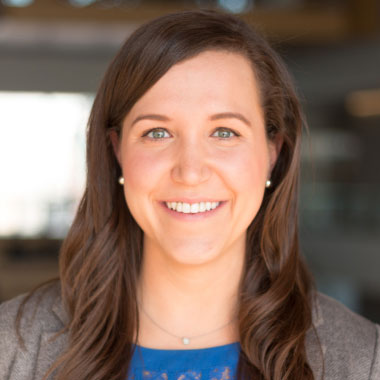 There is inherent pressure that comes with being the first hire on a team. Some people might shy away from that pressure. Claire Henderson (MMM '18) embraced it.
Henderson was the first person hired to Zillow's innovation team in February 2021, and over the past year she's worked to help define the group's vision, mission, and focus as it evolves in alignment with the company's goals.
"Zillow has an incredible culture that is inclusive and curious, which I love, and is undergoing a huge shift from a dream and shop app to a full-service, end-to-end experience that requires us to rethink how we work and how we deliver customer experiences," said Henderson, whose full title is senior manager for innovation. "We are facing challenges in how we blend digital and human touch along the journey in order to best serve our customers' dreaming, transacting, and moving needs." 
Zillow's innovation team works across departments to discover new trends and to uncover shifting consumer needs. Henderson and her colleagues use customer research to develop prototypes and rapidly test them on users. In addition, the team teaches the rest of the organization design thinking methodologies, including how to de-risk new ideas, agile development and customer-centric design.
The methodologies Henderson helps teach were taught to her in MMM, a dual-degree program between Northwestern Engineering and the Kellogg School of Management. 
"Throughout my life, I have always had a whole-brain approach to learning, thinking, and doing," Henderson said. "MMM truly embodies that mindset, and I loved the small cohort of like-minded individuals to learn from and grow with. The hands-on prototyping and real-world application of the human-centered design methodologies were a huge part of my experience."
Henderson continues to incorporate frameworks learned in MMM to help her evaluate new business models and new ways to communicate change and storytell about an experience. When she considers how to best bring concepts to life, her mind often goes back to storyboarding and rapid visualization skills developed in Research-Design-Build. 
Human-centered design remains integral to Henderson today as she helps her team understand how different personas have different needs throughout their home-buying journey — a journey that in some cases can last well over a decade.
"When designing new products or services, we ensure that customer needs and research are rooted at the center of what we do, and that it becomes a cross-functional effort after that to bring together product, design, engineering, and others to test and learn together," Henderson said. "Our value comes in bringing together marketing, product, design, engineering and others to ensure we have a shared vision of how the customer promises come to life across lines of businesses in a journey-centric way."
On Henderson's first day at Zillow, she was tasked with co-leading a 16-week program to define Zillow's three-year vision. She worked alongside more than 40 of the company's leaders and helped them understand shifting customer expectations and needs, market changes due to COVID-19, and technology trends that could play a part in their future strategy. It was a project that could have been intimidating. Instead, Henderson saw opportunity — thanks to MMM. 
"I learned a valuable toolkit for the entire lifecycle of product development in MMM," she said. "My confidence grew as I knew when to bring out certain tools in the process, and how to bring others along with me."