Training the Hybrid Innovator
MMM program's co-director talks about how the program is able to create graduates ready to make a difference in the business world.
Achal Bassamboo has watched nearly a decade's worth of students graduate from Northwestern's MMM program. In each of them, he sees a professional infused with new superpowers. 
Bassamboo is co-director of MMM, a dual-degree program between Northwestern Engineering and the Kellogg School of Management. Along with fellow co-director Greg Holderfield, he strives to keep the program on the cutting edge of innovation to provide students with the best possible boost to their careers.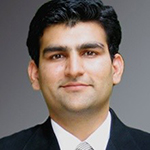 "MMM students are armed with a variety of superpowers," said Bassamboo, who has been with Northwestern since 2005 and served as MMM co-director since 2014. "Theyhave an entire toolkit they can use and are thinking about the customer — how and what they need, why they need it — and are asking the right questions." 
The true strength of the program and its graduates lies in the marriage between business education and design innovation. This breadth makes students more well-versed in everything from finance and operations to analytics and product management, which provides for a wide range of career paths for graduates to follow.  
"It's hybrid because not only are MMM graduates adept at coming up with something new and keeping the customer in mind when they're doing so, they are also keeping the business in mind," Bassamboo said. "They're able to create the value, yes, but also capture the value in a manner that's financially sustainable."  
To this mission of creating new superheroes, Bassamboo brings more than two decades of experience examining customer behaviors. His work on service systems, revenue management, and information sharing has been featured in more than 50 publications.  
Bassamboo's passion lies in figuring out how and why humans react as they do in dynamic situations – for example, when they visit a new restaurant or go to the doctor and interact with service providers. The systems are dynamic, Bassamboo said, because each word uttered by a waiter, doctor, or nurse creates a new system altered from the previous one that awaits the next interaction to change once again. 
Bassamboo enjoys examining how customers react when they are provided different pieces of information and what that information's impact is on their purchasing decisions.  
He points to Amazon's "lightning deals," in which customers see a product with a set amount available at a special price for a certain amount of time. A bar indicates how many people have already jumped on that deal. What Bassamboo said research shows is that if the bar indicates a significant number of people have already grabbed the deal, a viewer is more likely to turn into a customer.  
He brings that analytical focus to MMM, while Holderfield brings a perspective rooted in human-centered design. The program reflects that combination, allowing students to develop the best of both worlds while preparing for an array of possible career choices post graduation.  
"We are always keeping an eye on what the market needs and what exactly will be helpful for our students as they graduate," Bassamboo said. "These graduates are prepared to be hybrid innovators. That is the goal of the MMM program."