Rethinking the Driving Experience 
Geetha Somayajula (MMM '24) shares how she applied lessons learned in MMM to win the Kellogg Design Challenge and help Nissan reimagine global transportation.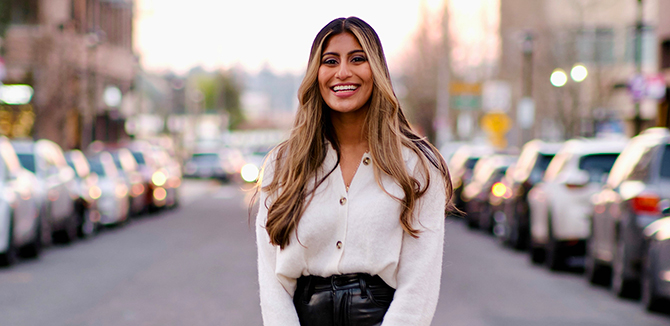 Geetha Somayajula, Uday Singh, and Simone D'Luna used to live in Los Angeles. Erika Ortiz is from Houston. Kareem Younis lived in Cairo. Vasudha Khare hails from New Delhi.  
Combined, the six have spent countless hours in ride-share cars and routinely relied on them as their primary mode of transportation. 
That experience, combined with the lessons they've learned at Northwestern Engineering and the Kellogg School of Management, was pivotal to the group that teamed up to place first in the Kellogg Design Challenge (KDC), the world's largest business design case competition for MBA programs.  
Over the past four years, KDC has engaged a community of future business leaders in partnership with a sponsoring company to produce actionable insights for a complex challenge that calls for top-tier human-centered design and business skills.  
This year's sponsoring company was Nissan, and the challenge centered on helping the auto manufacturer reimagine the world's transportation system to better meet global needs.  
"All of us on the team have lived in major cities, and we've experienced the detriments of air pollution firsthand living in these crowded urban areas," Somayajula (MMM '24) said. "When we learned that ride-sharing vehicles contribute nearly 50 percent more pollution than personal vehicles, we knew we had to do something."  
The team — nicknamed "Green Gigs" — focused its efforts on developing a solution to make electric vehicles more accessible for gig workers like Uber, DoorDash, and Instacart drivers. 
The solution itself focused on creating a subscription model for electric vehicles (EVs) that provided flexible short-term rentals of tailored Nissan EVs that are convenient and customized for gig workers. The program centers around building brand loyalty to Nissan by making the experience fun and rewarding for those who spend a lot of time behind the wheel.  
The potential and need for such a service is immense. The team's research uncovered Uber and Lyft's goal of having net-zero emissions by 2030. That will require a huge investment in EVs, all aimed at reducing the companies' impact on climate change.  
Somayajula said she was happy to realize how much of her education from MMM — a dual-degree program between Northwestern Engineering and the Kellogg School of Management — she applied to the competition. For example: 
The program's Research, Design, Build class gave her the framework to help the team create a research plan and execute it with a human-centered approach to uncover the best insights. 

 

Her Whole Brain Communications class helped the team create a compelling narrative for the slide deck it presented to the Nissan executives. 

 

The Innovation Viability class allowed the team to scale the opportunity with thoughtful assumptions. 

 
"This is just the tip of the iceberg," Somayajula said. "All of the MMM courses I've taken so far have played a role in shaping my thinking and have helped me embrace the meaning of being a hybrid innovator."   
Singh is also a MMM student along with Somayajula. Khare, Ortiz, and Younis are all students in MBAi — a joint-degree program offered between Northwestern Engineering and Kellogg — while D'Luna is a full-time MBA student.  
Somayajula added that the KDC experience provided tremendous inspiration for her as she continues her MMM education and prepares to launch her career.  
"For me, this reaffirms my passion for design innovation," she said. "The opportunity to receive real-time feedback from judges – both Kellogg faculty and Nissan stakeholders – helped us learn and grow in the moment. I highly recommend the experience."