Serving Impoverished Areas in Kenya
Approximately 2.5 million people live in the informal urban settlements, or slums, of Nairobi, Kenya, where families live in 100-sq.-foot houses with metal sheets for walls and roofs. There is often no access to running water within the homes, and there is neither space nor money for a sewer system. This results in often unsanitary toilets and human waste that is improperly handled and that gets dumped into the environment.

Tobias Wyler spent this summer in Nairobi trying to help address this lack of safe and environmentally friendly sanitation.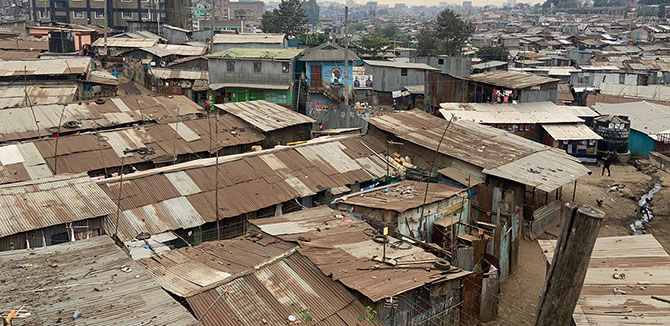 Wyler is a student in Northwestern's MMM program, a dual-degree program between Northwestern Engineering and the Kellogg School of Management. He was in Africa as an intern for Sanergy, a nonprofit that provides and services toilets in an effort to help improve the health of those who live there.

In the process, he saw a part of the world that overloads the senses – the buzzing of the flies that swarm around waste streams that flow through the alleys of the slums, the claustrophobic maze of passageways between the small metal homes, and the array of scents ranging from fresh foods to burning trash.

"People use community latrines that are not hygienic, where the waste often ends up in the environment," he said. "By providing small toilets that fit into plots of land and can serve several households, Sanergy helps solve these sanitation issues without relying on sewers or running water."

Residents of the slums, who often earn no more than the equivalent of a dollar or two a day, pay a small fee to use the toilets provided by Sanergy, which regularly empties them to improve sanitary conditions in the neighborhood. The nonprofit then converts the waste into fertilizer and animal feed to distribute to Kenyan farmers.

In addition to experiencing Nairobi for himself, Wyler helped evaluate new revenue streams through blockchain-enabled non-fungible tokens. He also helped define and improve the toilet-closure process, which forced him to navigate a multi-stakeholder environment and improve a complex process that was only partially implemented.

"I wanted to work for a public health cause in a developing country," he said. "Sanergy was the perfect opportunity for this. I saw behind the scenes of this fascinating company and learned that user-centered design is absolutely vital. Quite often, the smallest details were important."

Figuring out those smallest details and which ones mattered most is a challenge for anyone unfamiliar with life in the slums. Wyler said he relied on an approach learned in the MMM program – one that he believes will apply wherever he goes in the future.

"If you're dealing with a group you don't belong to — which is most of the time — try to forget all preconceived notions and instead rely more on qualitative research," he said. "Talk to your users."

Wyler is now focused on completing the MMM program before returning to work that creates positive social change.

"I have a better understanding of what it is like to implement a social impact project in a developing country," he said. "I would like to leverage that in consulting, where I am hoping to do more projects in public health."

What he's learned in the MMM program will be a cornerstone of those efforts, he said. He's relying on his fellow MMM students to be a part of the change.

"Design research can make or break the success of corporations and nonprofits alike, yet it is also underappreciated and not well understood," he said. "MMM's graduates can play a facilitator role here."