Optimism as an Asset
Michael Perry (MMM '18) talks about his positive approach to life and work as a design innovator with Doblin.
Michael Perry (MMM '18) exudes positivity. 
It's more than just a casual outlook for Perry, manager of innovation strategy at Doblin, the global innovation strategy group within the Deloitte Digital studio. To him, it's the mindset he sees as the key to success for design innovators.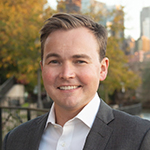 "I am an optimist at my core, and I feed off the optimism that I believe is required for any well-functioning innovation team," Perry said. "I don't think pessimists make good innovators because, although some skepticism is helpful to pressure-test ideas, ultimately, any new idea takes a leap of faith to get out in the market." 
Perry is familiar with taking those leaps of faith, bringing optimism and innovation to companies such as Prophet, IBM iX, and now Doblin, where the focus is on helping companies anticipate and seize new business opportunities using human-centered design.
"My responsibilities have evolved from being an individual contributor to leader of a team," he said. "I am also one of the 'old salts' these days, and I do my best to pass on my knowledge to the new hires."
Perry credits the MMM program with accelerating his career growth.
"I use those lessons learned from MMM to adopt a multidisciplinary mindset every day so that I can deliver solutions grounded in customer desirability, technical feasibility, and business viability," he said. 
Specifically, he highlights the leadership and coaching skills the MMM program helped him cultivate. 
"In one of my MMM classes, the professor showed a diagram of the typical design process," he said. "It started as a gnarled squiggle that eventually smoothed out over time. More often than not, it takes a lot of coaching to get clients and teams through the squiggly part of the process, but once you break through that initial turbulence, the trust that is built lasts a very long time." 
Perry's decision to join the MMM program came down to its dual approach of growing students' design skills while simultaneously developing their business acumen. 
But that wasn't all that attracted him. 
"To be honest, I also had the itch to make things, and having access to a fabrication lab with a laser cutter, 3D printer, and a woodshop was completely amazing," he said. "My house is still decorated with the furniture and tchotchkes I built while at MMM." 
Now applying his MMM learning in the business world, he also helps find the next generation of design innovators as part of Doblin's recruiting team. He offers the same advice to those young prospects as he does to anyone considering MMM.  
"My best advice is to make yourself as T-shaped as possible, with a breadth of experiences, both personal and professional, and depth in one area," he said. "The best candidates have a focused set of core skills, while remaining constantly curious and having proven track records of success in a broad range of situations." 
They also share his healthy optimism about their work and the world. 
"Innovative ideas are easy," he said. "Converting pessimistic skeptics into enthusiastic believers is the hardest part of the job."