MMM Alum Uses Design Thinking to Help Plato Look Forward
Stephen Chang (MMM '21), a product manager at startup Plato, reflected on his recent experience leading a design sprint to help brainstorm new growth opportunities for the company.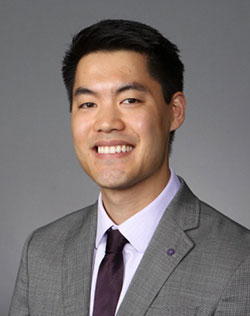 Stephen Chang (MMM '21) admits that as an engineer, he used to view things as black or white: they worked, or they didn't.
The MMM program helped open his eyes to a new world of opportunities in between.
"MMM allowed me to break outside of my traditionally technical background," Chang said.
MMM is a dual-degree program between Northwestern Engineering and the Kellogg School of Management. Students receive a rigorous business education integrated with the human-centered methodologies of design innovation.   
"MMM classes exposed me to a number of frameworks and ways of thinking that continually help me reframe problems in ways that are easier to understand or can be answered from different perspectives," Chang said. "Most importantly, the MMM program prepared me to conduct impactful customer- interviews, understanding how to ask probing questions to uncover insights at levels much deeper than at the surface of an initial response." 
Chang took that new knowledge to Plato, an online startup community that matches engineering and product professionals with seasoned mentors and offers a structured approach to leadership skill-building. As a product manager, Chang supports functional and engineering teams by building and improving product features while ensuring the customer voice is included in all discussions.
Chang interned at Plato in 2021 while still finishing MMM. Since then, the company has nearly doubled in size and recently received Series A funding. As the company's grown, so has Chang. With the leadership team thinking more long-term, Chang was able to lead them through a design sprint to brainstorm the company's future.
"While we have found product-market fit with our existing offerings," Chang said, "we think there is tons of room to grow and value to be created for our users."
It was in MMM where Chang first experienced a bias toward action through design sprints. Typically performed over five days, the sprint concept is meant to help solve complex problems through rapid ideation, prototyping, testing and iteration. The idea is built on the iterative design thinking methods emphasized throughout MMM.
The Plato team only had three afternoons to devote to the exercise, so Chang's product team conducted research, initial user and expert interviews, and "how might we" concepts ahead of time, saving time and allowing the process to run more efficiently. During the sprint, Chang led a team of 11 leaders in sessions designed to surface the best concepts for future business opportunities. They conducted user interviews, storyboarded and prototyped ideas, and ultimately aligned on future goals.
"Human-centered design and a design thinking methodology fueled us to step outside the box to think creatively of new solutions to what comes next," Chang said. "It allowed us to test our concepts in three days, rather than three months."
That time of design innovation and creative problem solving were not skills Chang had earlier in his career. He credits MMM with helping him develop that mindset — to be able to see things as more than just black and white.
"The MMM program showed me that some of the best ideas come from being creative," he said, "from going beyond the first obvious solution, and that carefully listening to and observing users is the best way to get to a successful outcome."