From Innovation to Execution
Marney Boughan (MMM '11) talks about how Northwestern's MMM program prepared her to successfully launch her design consultancy company, dthink.
Marney Boughan has never struggled to generate innovative, user-focused design ideas. 
But when she needed help developing the skills to more effectively convert those ideas into money-making ventures, she turned to MMM, a dual-degree program between Northwestern Engineering and the Kellogg School of Management.
"I was lacking an understanding of what to do with my idea once it was tried and iterated," Boughan (MMM '11) said. "How could I take an idea from prototype to implementation? How could I ensure my idea would make money?"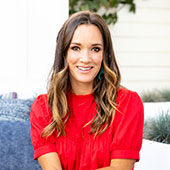 Boughan was interested in design thinking, and she worried a traditional MBA would steer her away from that interest. When she discovered the MMM program, she realized it would give her the business fundamentals she craved while still allowing her to pursue her passion. 
"It was spot-on – an opportunity to learn the numbers and economics of product development while maintaining a focus on innovation," she said. "I loved the creative program offerings, the second-year project opportunity to collaborate with a company on a real-world problem, and the best-in-class faculty." 
As she prepared to graduate, her career faced a fork in the road. One path would take her to a small entrepreneurial nonprofit that designed medical devices for the developing world. The other veered toward an established design consulting agency with Fortune 500 clients. 
Boughan's decision was to take the road less traveled, plotting her own course between the two paths. 
"After some sleepless nights, I took a gamble and asked if both companies would be amenable to me working on simultaneous projects as a consultant," she said. "Thankfully, they agreed to the arrangement." 
So Boughan became a self-employed consultant. She founded dthink, a human-centered design consultancy, and two clients turned into 20 as the company took off. She built dthink to reflect lessons learned while in the MMM program. 
"I appreciated the diverse backgrounds of my group members in MMM," she said. "The variety of cultures, perspectives and experiences brought a richness to our solutions, and I try to model that diversity in my work today. Who can I bring into a brainstorm that would offer a unique perspective on this space? Who might be helpful to learn from in a research study with views different from what I've already heard? Basically, how can I model my team or research off of my MMM group?" 
That approach has worked for Boughan and dthink. The company's client roster is a diverse assortment of mega-companies such as Google, Cedars-Sinai, AT&T, Girl Scouts, Sprint, Sony, and the Bill & Melinda Gates Foundation. Though the clients vary, the mission for each is constant. 
"So many products and services just aren't tailored to what people truly need," she said. "I want to help companies design tools, experiences, and services that solve users' frustrating pain points." 
Her MMM experiences helped her do just that. 
"My MMM years were an incredible gift mid-career for me," she said. "I completed my understanding of the product development process, explored various industries, traveled and worked in (developing) countries, and gained the confidence and toolkit to go off on my own after graduating," she said. "I'd do it again in a heartbeat."