Expanding Reality Thanks to MMM
René Peters talks about how his time with the MMM program helped him on the road to unveiling NVIDIA's potentially life-changing Project Aurora.
René Peters is rarely satisfied by simply using a product or service. 
He's always felt a need to dive deeper, to not only understand how something works, but why it works and how it might solve a consumer's needs. That's why, when he was considering ways to advance his career, he felt Northwestern's MMM program was the best option.
"I've always enjoyed learning how things tick, and I think understanding why people use the products they use and how they interact with them caters to that curiosity," Peters said. "I saw MMM as a way to gain that perspective on the world around me."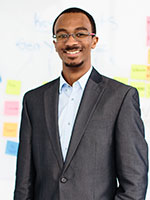 Peters (MMM '18) now leads a project to expand that world. As a product manager at NVIDIA, he is leading innovation and development for the company's Project Aurora, a platform that combines artificial intelligence (AI) with extended reality (XR) – think virtual reality and augmented reality together – to deliver experiences with vast implications for a variety of industries. 
"What makes me most excited about working in this space is knowing that I'm impacting a nascent technology area that will change how we live and work in the future," Peters said. "The feeling of forging ahead into the white space of possibility that augmented reality and virtual reality presents is exhilarating." 
That white space is something just starting to be learned about. Peters unveiled Project Aurora in a video presentation and blog during NVIDIA's global AI conference in March, but he's been working toward this moment since he left a job as a product marketing manager with Microsoft to join NVIDIA in October 2020.
For Peters, it was a move that made sense for his career trajectory. 
"I always knew what fulfilled me most was making strategic decisions about the nuts-and-bolts of the products themselves and not just how to get them into people's hands," he said. "When the opportunity to build an entire platform from the ground up at NVIDIA came around, I felt it was time to take that perspective forward to be a product manager who could see many steps ahead and think about how the product would hit the market." 
That type of thinking was learned during Peters' time in MMM, a dual-degree program between Northwestern Engineering and the Kellogg School of Management. MMM helps students develop their human-centered design skills while providing a rigorous business education to help them bring life-changing products and services to market. 
MMM supplies students with a variety of partner project opportunities where they work with real businesses to help solve real problems. During his time in MMM, Peters collaborated with companies like Visa and Harley-Davidson while developing his human-centered design thinking skill set.
"The core skill I took away was how to organize information, recognize patterns to extract insights, and present all of that information in a format and flow that makes sense," he said. "It was also a great chance to understand the parts of the design-thinking process that I liked the most and how to best utilize the superpowers of my teammates to deliver a great result."
Those are skills he's now applying at NVIDIA, and his hope is that Project Aurora will be one of those great results. The core belief driving Project Aurora is that powerful XR experiences infused with the benefits of AI can be accessed from anywhere by anyone with a headset or handheld device, without bulky tethers or expensive high-end workstations. 
For example, medical professionals could train together as a team from separate locations using real patient data in an XR environment to immerse themselves in a virtual world with accurate representations of the human anatomy. 
For Peters, the possible use cases are limited only by the human imagination. 
"I truly see design as a layer of awareness that can be applied in almost any situation," he said. "Most anything can be thought of as a product, service, or experience that can be improved with empathetic design thinking."