Bringing Empathy to the Bra-Buying Experience
Nicole Cuervo (MMM '22) is leveraging the lessons she's learned in Northwestern's MMM program to launch Springrose, her own company that produces adaptive, attractive, and comfortable bras designed specifically for women with upper mobility restrictions.
Nicole Cuervo (MMM '22) found herself inside a department store because she felt bad for her grandmother Rose. Her grandmother had osteoarthritis, and Cuervo noticed how uncomfortable Rose was wearing a traditional bra, so she offered to go to the store to find a better option. 
Cuervo's sympathy for her grandmother quickly turned into outrage at the lack of choices for Rose.
"I looked at the options that were available and it made me angry to see that there weren't any good options," Cuervo said. "The ones that did exist that were supposed to be helping this population were just so ugly and shapeless. They were clearly more of an afterthought than a purposeful product meant to help people."
Cuervo's grandmother died in 2016, but that memory stayed with Cuervo for years, until she was ready to do something about it. Cuervo decided to develop Springrose, her own company that would produce a line of adaptive, attractive, and comfortable bras designed specifically for arthritis, fibromyalgia, stroke paralysis, and other upper mobility restrictions. In order to launch her own business, she felt she needed more education. 
For that, she turned to Northwestern's MMM program. 
MMM, a dual-degree program between Northwestern Engineering and the Kellogg School of Management, provides students with the business background of an MBA along with a foundation in design thinking, innovation, analytics, and product management.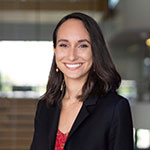 "I knew I wanted to go to a place where empathy was valued as much as accounting and finance and marketing," Cuervo said. "I want to make sure as I start my business I have all the tools I need, not just from an MBA scope, but also a robust set of methodologies and understanding of the wide world of design thinking and all that falls under it."
That focus on empathy can be seen in the way Cuervo advertises her product. Not only are Springrose bras adaptive so women with limited dexterity and mobility can use them, but they also are safe for women with pacemakers and supported by both physical and occupational therapists.
Each class Cuervo's taken in MMM has impacted her business in some way, she said, whether it was understanding what data to focus on in Customer Analytics and AI or learning to tell her brand's story in a concise and compelling way in Whole-Brain Communication. The impactful storytelling that came up in Whole-Brain Communication was of particular interest to Cuervo, who knew she'd have to sell the vision of her product to people who didn't understand the challenges bras can present. 
To do that, she told the stories of some of the women she interviewed during her initial research for the company who found elaborate ways of getting around their problems. One woman who couldn't move one arm would lay a traditional bra down on a bed, lie down on top of it, pull the straps around her torso, and then with her one good hand try to get it in position. Other women talked about piecing together their own "Frankenstein" bras. Cuervo also explained how not having a bra that fits or can be put on easily can affect a woman's confidence, her perception of her own femininity and sexuality, and ultimately her independence.
"Bras are designed for fully able-bodied people," Cuervo said."For women who have some sort of a limitation, they experience daily pain while getting dressed, or they may become dependent on a partner or caregiver to get dressed. My products are thoughtfully designed and co-created with these women, so they can get dressed painlessly and independently, thereby restoring dignity and enabling them to be unstoppable."  
Cuervo's stories resonated with those who heard them. In 2021, Cuervo competed in VentureCat, Northwestern University's annual student startup competition, and was awarded third place and $25,000.
This past quarter, Cuervo worked with MMM co-director and Professor Greg Holderfield on an independent study that focused on the design of product line extension concepts.
Cuervo's plan is to officially launch later in 2022. Her goal is to help as many women as possible feel comfortable, while at the same time delivering the empathy she wished her grandmother had received.
"I want to provide a product that is comfortable, that fits people well, and that people don't have to think about," Cuervo said. "I want putting on your bra to be something you no longer have to dread or think about, it's just something that happens naturally in the morning. I want to create that effortless experience."
Click here
to sign up and receive updates about the launch of Springrose.