Becoming a Math Teacher's Best Friend
Jake Erichson leaned on his MMM lessons during his summer work on an app designed to make life easier for math teachers.
A lot can go wrong when math students try to solve for "x." Jake Erichson wants to make it easier for teachers to show students where they erred. 
Erichson is a student in Northwestern's MMM program, a dual-degree program between Northwestern Engineering and the Kellogg School of Management. He spent his summer developing his startup, Renota, billed as "a math teacher's best friend."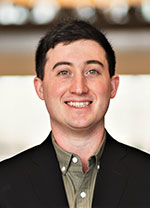 "The goal is to help math students get more feedback on their work while saving teachers time in the process," Erichson said. "We're accepting photos of students' full handwritten solutions to questions, and our software understands what the student is writing and can identify where the student went wrong in their solution." 
Erichson worked with several Northwestern undergraduate interns to tackle two important questions: 
How difficult would it be to build the artificial intelligence necessary to do what Renota aims to do? 
Are schools willing and able to pay for it? 
"To no longer have 20 hours a week but to have 40, 50, 60 hours a week dedicated to the startup was really awesome," Erichson said. "I loved having the opportunity to really dive in full time to work on the startup and to try to build the business." 
That dive was not on his own. In addition to the undergraduate students, Erichson was surrounded by other student entrepreneurs in Jumpstart, a pre-accelerator program that seeks to develop students as leaders and founders by challenging them with new ways of thinking and problem-solving. The program exists inside The Garage, a community of Northwestern students driven by entrepreneurialism. 
"It's been a great opportunity to be in a group of founders all going through the same experience I am," he said. "We're all going through the same struggles together."
By the end of the summer, Erichson had answers for the questions he set out to investigate. First, Renota's artificial intelligence was able to take a student's handwritten solution to a problem from an Algebra I class, identify whether it was right or wrong, and, if it wasn't correct, point out the exact place where the error began. 
 Second, Renota began to draw interest from schools willing to pay for the service. They have reached their capacity for paid trials this fall, receiving commitment from two schools that will pay for Renota software and support three teachers and more than 100 students.
"That was our largest goal going into the summer, to actually have a school interested in paying for us to start supporting their students," he said. "To have that win was an awesome feeling." 
Erichson said he plans to continue to develop Renota with hopes of launching it on a broader scale after his anticipated 2023 graduation. He said he knows the foundation for the success he's seeing was built with the lessons he's already learned in the MMM program. 
"By being the person in charge, by having dozens of calls with teachers where I'm really understanding their needs, I've had the opportunity to put in place a lot of what I've learned in MMM and put all of what I've learned into context," he said. "It's not just something you learn in a classroom and forget. It's real. I've already seen how valuable it all is."