Using Whole-Brain Communications to Help Front-Line Workers
MMM students provided recommendations to Northwestern Medicine to increase ease of use of analytical dashboards.
Think of the typical slide presentation that you see at work, a barrage of overcrowded slides, full of abstract language and confusing graphs. Or perhaps your organization relies on data dashboards that unfortunately cram thousands of data points into counterintuitive displays. Northwestern University Professor Steve Franconeri believes that there is a far more efficient way to convey arguments and data to other human minds. MMM students in his Whole-brain Communications course learn research-backed guidelines for designing presentation decks, data visualizations, and information dashboards that are clear, powerful, and persuasive.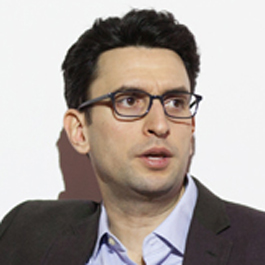 MMM is a dual-degree program built on business education and design innovation that prepares students to integrate the analysis and synthesis elements of left-brain thinking with the kind of right-brain thinking that leads to creative problem solving. 
Earlier this quarter, Franconeri's students practiced what they learned while positively impacting COVID-19 front-line workers at Northwestern Medicine (NM). Students were asked to redesign five of NM's internal organizations dashboards, each with its own distinct need to:
quickly fill cancelled appointment slots
track patient satisfaction
monitor uptake of patients using their new mobile app vs. their website to access medical info
use as their COVID-19 tracking board, which captures ventilator usage and bed access
enable doctors to access an overview of a patient's records and status
The students had less than two weeks to complete their redesign. They consulted with NM staff to inquire about the goals and tasks for each dashboard, as well as the types of data that could be added to help create new insights. They then presented their redesigns to a group of NM leaders and analysts. 
Afterward, two of the students, as well as two NM representatives and Franconeri provided an oral history of how the students approached the project and how NM and its front-line workers will benefit from the students' work.
Paul Jung (MMM '22):  Professor Franconeri had been covering really interesting concepts in data visualization at that point and I was eager to apply some of the principles we were learning to help Northwestern Medicine make better use of their data in the time of COVID-19. I've worked with hospital systems in the past as a strategy consultant, so I thought I might be able to leverage some industry experience to come up with a meaningful solution for Northwestern Medicine.
Tammy Su (MMM '22): When I first heard about the project, I thought it was going to be an effective, practical and impactful way to apply the visual communication concepts we learned in class. It was exciting that our project work could be applied to a medical context that could create a better digital user experience and potentially improve health outcomes of real people.
Professor Steve Franconeri: In the NM case, it's not enough to analyze their data or their organizational problem alone. Redesigning these dashboards also required the ability to do user interviews with NM staff to identify problems and solutions, and to complete an iterative design and re-design process to create intuitive and effective visual displays to facilitate their decisions.
Jung: Our team's objective was to design a solution to help NM make their patient satisfaction data more actionable. My teammates Julie Chung, Ben Omer, and I had conversations with the NM team to build an understanding of the available data and how it was used by clinicians and management today. We then brainstormed various ways to visualize the data to answer the questions these users were trying to answer in more simple and actionable ways. We also came up with a few new ideas, such as integrating other data sources to show relationships between demographic factors and patient satisfaction, that we thought could put even more information into the hands of NM leaders and help them start thinking about challenging issues like health equity. 
We then developed an artificial patient satisfaction dataset and built an interactive dashboard to bring our ideas to life. We were able to dynamically show how patient satisfaction varied across specialty groups, geographic areas, and could start identifying the biggest opportunities for improvement. By creating this tangible product for the NM team to play with, it was easy to communicate the impact that our ideas would have on reducing the time and resources needed to answer challenging questions.
Su: Our team worked on the MyChart dashboard that tracks mobile app usage over a period of time. With a very short time period, we asked questions of our NM contact to try and understand as much as possible about the goals and context of the mobile dashboard. Because we lacked the detailed user research to really understand the nuances of the specific use case for this dashboard, we focused on the visual ease of use of the dashboard. This included thoughtful application of NM's brand guidelines to guide the text hierarchy, colors and overall look and feel. We optimized for instant clarity, legibility, and intentional information hierarchy so that it was actionable and more easy to understand. 
Jung: Our MMM team was trained to let the needs of users drive solution development, and we wholeheartedly embraced this approach in solving for the challenge of personalizing data insights for various types of healthcare providers and employees. I love that I've played a role in helping Northwestern Medicine redesign their tools to better react to the pandemic, and to create a lasting change in how analytics influences their decision-making.
Su: This was both a fun and meaningful project. Knowing that it could help the lives of essential workers created an even higher level of engagement and commitment to the process. 
Dr. Thomas Moran, Northwestern Memorial Health Care vice president and chief medical information executive: The recommendations made have stimulated dashboard designers to modify, use new techniques, and clean up some current dashboards. The recommendations have helped NM look at the value of the user interview in creating a dashboard that can be meaningful across multiple audiences – not just for a narrow subset of employees.
Andrew Alcott, Northwestern Medicine program manager: To echo Dr. Moran, we occasionally fall into a trap as an organization where we develop dashboards where only one team or department would be able to fully interpret it. I think Dr. Moran, the NM leaders and I all walked away with new tools, not only in how to create a cleaner, more intuitive look for our users, but also to consider the broader audience up front so the dashboard is more valuable to the organization and has a longer 'lifespan.'
I think this experience was a great consulting exercise for the students in working with a client, understanding their needs — sometimes even before the client knows them — and presenting to and taking questions from that organization's leaders, all within a fairly short time frame. Having the end users at the final 'shark tank' presentation grounded the exercise in reality and will leave these students well-prepared for client work in the future.