Coming Full Circle With MMM
Leah Marcus (MMM '13) had a transformative experience as a student in Northwestern Engineering's MMM program. Today, she is a business design director at IDEO and back at MMM, where she teaches as an adjunct lecturer.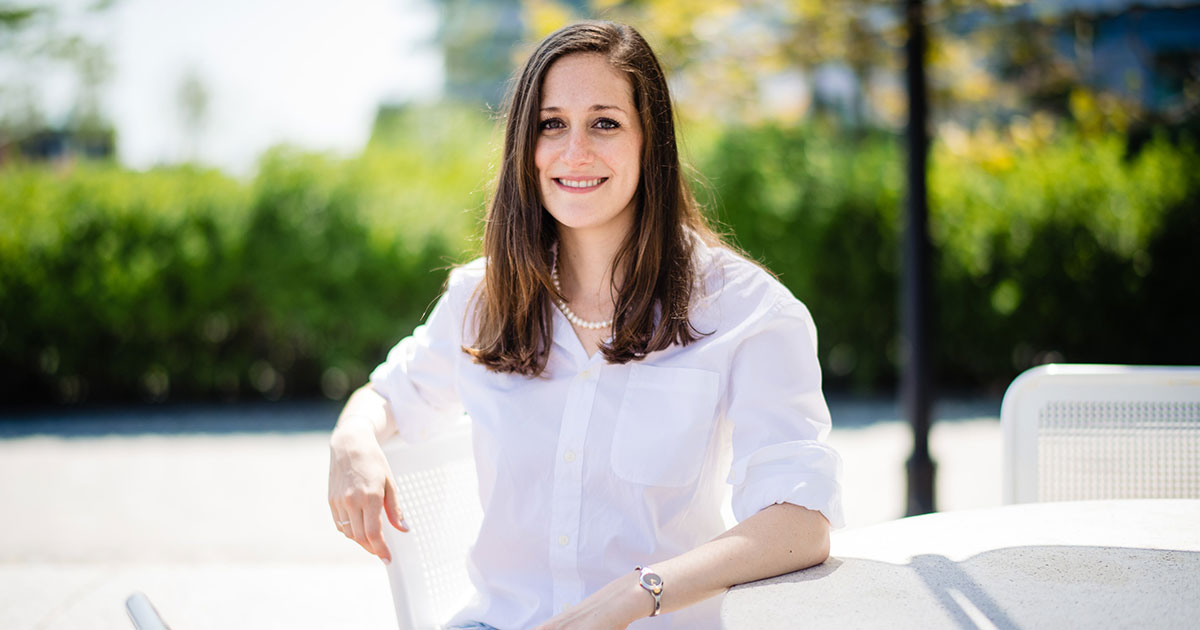 When Leah Marcus decided she wanted to attend graduate school, she only applied to one program: Northwestern Engineering's MMM program. She was passionate about pursuing a career in design and innovation, but she also wanted a world-class MBA experience. What she knew about Northwestern's Segal Design Institute and Kellogg School of Management made her feel MMM would be the perfect place for her. 
She was right.
Marcus (MMM '13) thrived in MMM thanks to the program's unique curriculum and hands-on support from classmates, faculty, alumni, and administrators. From there she held two strategist positions in the Chicago area before landing at Trunk Club as a product manager. Today, she is a business design director at IDEO, a global design and innovation company.  
Marcus has also spent the past five years sharing the lessons she's learned and her personal experiences as an adjunct lecturer in MMM. As she approaches her two-year anniversary at IDEO, Marcus reflects on her professional journey and how she would not be where she is if it weren't for MMM.
What were the most important lessons you learned during your time in the program?
Some important lessons I took away included recognizing the value of bringing a human-centered mindset into any business context, getting comfortable with ambiguity, thinking outside of the box, and learning from experimentation and failure.  
In what other ways did MMM help prepare you for where you are today?
The MMM Program provided me with a strong foundation that has propelled me forward in my career in design, innovation, consulting, and product management. The hands-on curriculum gave me an opportunity to learn by doing, which allowed me to experiment, make space for creativity, and learn through failure — all important lessons that carry forward from MMM to my role today.
How do you like to describe your job at IDEO?
At IDEO, I help clients solve some of their most complex growth and innovation challenges through a human-centered design thinking lens. This can range from designing new products, services, and experiences to building a culture of innovation and helping organizations articulate their strategy or transform digitally. I work with clients across a range of industries, from nonprofits to financial services to healthcare. 
What do you enjoy most about the job?
Getting inspired by all the unique perspectives, experiences and wisdom of my incredible colleagues, as well as building relationships with clients, helping them tackle gnarly challenges, and seeing the positive impact of our efforts out in the world. 
There was a story about you in The Muse, and in it you were candid about your professional journey. Looking at your career, what do you pride yourself most on?
Bringing my authentic self and my whole heart to what I do each and every day. That can mean making space for fun and creative expression, being vulnerable, setting boundaries, or initiating a change when I realize I'm getting too comfortable. It can also mean asking for help, saying "I don't know," or openly expressing gratitude. At the end of the day, we're all just human beings. I'm proud of myself for never losing sight of that!
What does it mean to you to be back in MMM teaching students about design thinking?
It means so much to have this opportunity to be back in MMM, teaching students about design thinking. Having been in the students' shoes, I can relate to them and understand what they're going through, including how much they have on their plate and all of the competing priorities they're juggling. At the same time, I can also lean on my experience working professionally for a number of years since graduation. This allows me to help the students put things into perspective and also connect the dots on how they can apply what we're teaching in the real world.
Seeing the growth of our students over the course of ten weeks is incredible, and to know that I've played a small part in their journey is one of the most rewarding experiences of my life.