Changing the World with Technology
Kyron Whitfield (MMM '22) dreams of using technology to create innovative solutions that positively impact underrepresented communities. He turned to the MMM program to help make his dream a reality.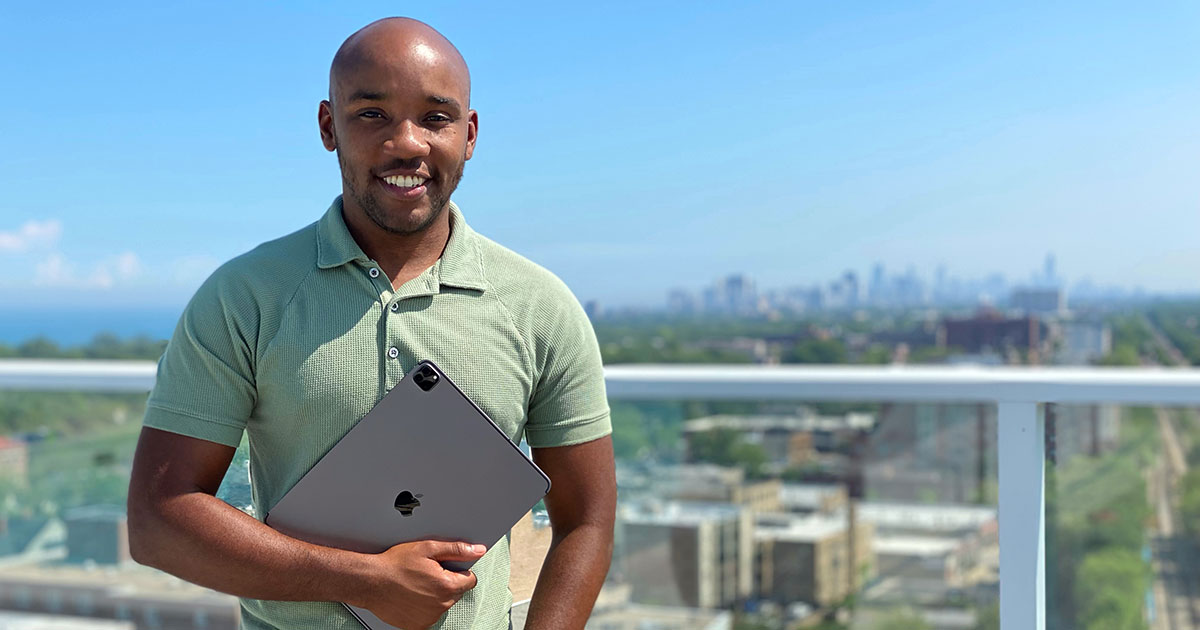 Kyron Whitfield spent more than six years working at the technology company Lenovo, first as an account manager, then a marketing coordinator, and ultimately a brand manager. He worked with diverse teams to help improve the user experience for customers and the working experience for employees. 
Whitfield learned a lot at Lenovo and loved his colleagues, but he realized he wanted to be more involved with the products themselves. He knew technology had the power to help advance communities, particularly underrepresented ones, and create more equitable progress. He wanted to help create those types of products, so, in the midst of a global pandemic, he took a leap.
In July 2020, Whitfield enrolled in MMM, a dual-degree program between Northwestern Engineering and the Kellogg School of Management. He considered other programs at a variety of universities, but MMM appealed to him because he felt he'd develop the foundation to leverage technology and design accessible solutions that make a positive difference. 
"The MMM program stood out because it prioritizes the needs and desires of humans at the center of solutions," Whitfield said. "Whether you're interested in tech, management consulting, entrepreneurship, or anything in between, the MMM program prepares you with a playbook that helps add some structure to the chaotic and challenging endeavor of building the next big thing."  
A year into his studies, Whitfield appreciated that most of his courses include real-world applications to problem solving. That was especially true in Research, Design, Build, where Whitfield and his classmates helped a large organization in the hospitality industry make the necessary business strategy changes to manage through the COVID-19 pandemic. Helping people return to work safely and create opportunities for them to connect with one another spoke to what Whitfield was looking for in a graduate program.
"The MMM program approaches business with an empathetic heart and a belief that design can have a positive impact," Whitfield said. "We learn how to leverage the design thinking methodology to approach problems with innovative solutions. While a background in design isn't a prerequisite, a bit of curiosity, creativity, and compassion goes a long way." 
Studying both engineering and business management will be an asset to Whitfield as he moves forward in his career. For now, he's focused on his summer internship at Apple, where he will work as a product marketing manager on the company's iPad team. The opportunity will present unique challenges, particularly since the iPad is one of the most recognizable devices at Apple, the most valuable brand in the world according to Forbes. Whitfield is ready to think outside the box, something he's grown accustomed to doing in MMM. 
"I am excited to leverage all that I have learned both in my career and the practical skills gained during my first year in the MMM program," Whitfield said. "How do you push the envelope at arguably one of the most successful companies and on one of the most innovative products? We'll see."