MMM Students Win AbbVie Innovation Challenge
Team HC-Free focused on patient engagement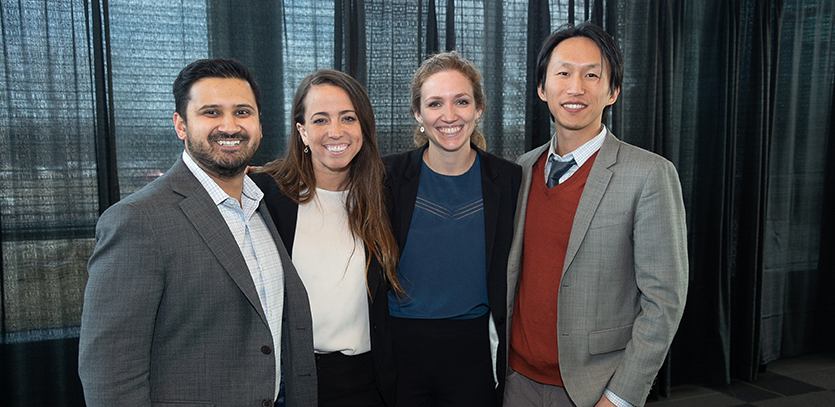 Northwestern students competed in the AbbVie Innovation Challenge on March 6, with a team consisting of three MMM students and an MBA student from the Kellogg School of Management placing first. 
The event, held at AbbVie's offices in Mettawa, Illinois, was co-sponsored by Kellogg. Northwestern students from Kellogg, Feinberg School of Medicine, and McCormick School of Engineering formed teams to compete.
The winning team, HC-Free, included Kris Masoor (MMM '20), Sarah Consagra (MMM '20), Lauren Meyer (MMM '20) and Jack Wang (Kellogg '20).
The MMM Program combines an MS in Design Innovation focused on design thinking, analytics, and product management from the Segal Design Institute at Northwestern with an MBA from Kellogg. 
Before joining the MMM Program, Meyer worked in the healthcare field.
"I was excited by the opportunity to apply a combination of what I had learned in the MMM Program with my previous healthcare experience to innovate around a relevant healthcare challenge," said Meyer.
The challenge required teams to design solutions focused on eradicating the Hepatitis C virus in the Baby Boomer generation by 2030. Judges looked for solutions that incorporated patient engagement, were differentiated from what currently exists on the market, and could be ready to deliver impact this year.
The teams had two weeks to iterate and develop their solutions. The challenge began with a kickoff event on February 20, where Dr. Chad Achenbach, Associate Professor of Medicine and Director of the Global Health and Society Foundation at the Feinberg School of Medicine, provided background on Hepatitis C.
Teams submitted their solutions on March 3 and five teams were chosen to participate in a Pitch Day for executives at AbbVie.
"It truly was a hackathon sprint session," said Joe Maliekal, Head of Commercial Innovation Capability at AbbVie.
AbbVie wanted to co-sponsor the challenge with Kellogg because of the fresh perspective offered by Northwestern students.
"We like to test the hypothesis of how someone new to our business challenges will look at those challenges and turn new perspectives into solutions," explained Maliekal.
Meyer and her teammates pitched an education program that connects hepatologists and gastrointestinal infections specialists with primary care providers.
"During our research, we found that one of the key barriers to Hepatitis C virus treatment was that primary care providers were not equipped to treat patients directly," said Meyer. "Instead, they would resort to referring these patients to specialists, who often had long wait times which resulted in patient drop-off. We targeted Medicare Advantage providers, a group of physicians who manage care for a large percentage of baby boomers."
Meyer and her teammates leveraged skills they learned in the MMM Program during the challenge.
"In MMM, we refine the skill of teasing out insights from interviews with stakeholders to identify pain points in existing processes," said Meyer. "During this challenge, members of our team spoke with primary care physicians, nurses, and social workers to better understand the patient's journey. We were able to unearth unique pain points that we may have missed entirely by relying on secondary research. We used our MMM skillset to map out the treatment journey and narrow in on what we saw to be the biggest opportunity area—primary care physician education."