MMM Innovation Day Explores Design in Business
Growth Design Lead for Adobe Spark Gave Keynote Speech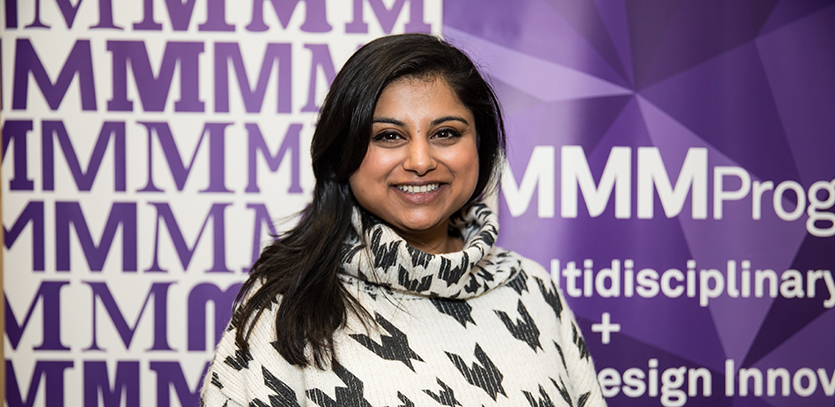 Students in the MMM Program came together for the first-ever MMM Innovation Day on April 12 to hear different perspectives about fostering design innovation in business.
The event, held at the Ford Engineering Design Center on Northwestern's Evanston campus, was organized by members of the MMM Program's Student Executive Committee: Stephanie Baranovic, Emilie Futterman, Ana Hur, Juan Luciano, and Julia Rodenas.
"We wanted to put together a day that really brought MMMs together and showed all the different forms that innovation can take in business," said Futterman (MMM '20).
The day's programming included a keynote speech and workshop by Verna Bhargava, Growth Design Lead for Adobe Spark, followed by a MMM alumni panel.
The Meaning of Innovation
At Adobe, Bhargava develops innovation strategy to grow a new graphic design application intended for non-professional users. During her keynote speech, she drew a distinction between change and innovation.
"The word 'innovation' is just thrown around when really you look at a project and it was just a business decision," said Bhargava. "To me, [innovation] is more systematic. It's how you approach putting that project out in the world in a thoughtful way that really gets at all the different levels of a functional, emotional, and meaningful experience."
Next, Bhargava led a workshop on how to leverage storytelling for design strategy. As part of the workshop, she placed an emphasis on the power of relationships to drive innovation at an organization, especially one that does not prioritize human-centered design already. That emphasis stood out to Futterman and her peers.
"I think a lot of times in innovation we think a lot about sketching and interaction, but that doesn't necessarily work for everybody because that's not how they're comfortable thinking," said Futterman. "It was really interesting to hear her perspective on she brings everyone along throughout her process."
Beyond a Traditional MBA
The MMM Program is a dual-degree program that combines an MS in Design Innovation focused on design thinking, innovation, analytics, and product management skills from Northwestern Engineering's Segal Design Institute and an MBA from the Kellogg School of Management.
Bhargava praised the MMM Program for being different than a traditional MBA program.
"I think it's really interesting how there are a lot of business programs that are still kind of operating on older, more traditional approaches to how we do business. Programs like MMM are challenging that," said Bhargava. "It's how we combine our intuitive skills and our business and analytical skills and our creative skills to actually go about things differently and [the MMM Program] is doing that."
Value of the MMM Network
The day concluded with a panel of MMM alumni moderated by Juan Luciano (MMM '19). Panelists included Cameron Scovil (MMM '17), Jeanne Gatto (MMM '13), and Adam Attas (MMM '18).
"It's the least I can do to pay it forward and help current students figure out their paths after graduation," said Scovil. "Anything we can do to facilitate conversations between current students and alumni will ultimately strengthen the MMM network."
Attas, who has founded a group called Chicago Business Designers to support the intersection of business and design in the city, was also excited to come back to speak.
"I know a lot of what the students are going through having just gone through it myself," said Attas.
Reflecting on the success of MMM Innovation Day, Hur (MMM '19) thought students left with a greater sense of what might be possible after graduation. 
"The entire day put us in the mindset to be better leaders," said Hur. "In MMM, we design for and iterate on solving customer needs. Today, we thought about the next step—how might we use design innovation to empower our teams with the goal of creating lasting change for our organization and processes as well as for our customers?"