MMM Celebrates Class of 2019 Graduates
Dean Ottino and Associate Dean Merrick delivered remarks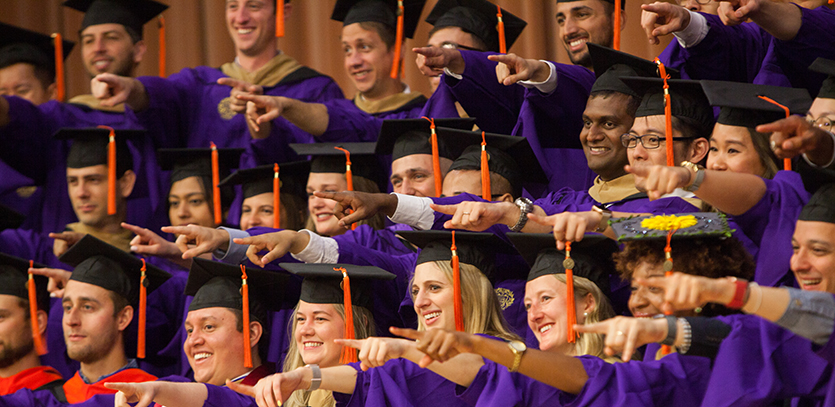 Northwestern University's MMM Program celebrated the graduation of its master's students on June 21 and 22 as part of the University's 161st Commencement. 
MMM students and their families began the celebration with a brunch reception in the atrium of the Ford Engineering Design Center on Northwestern's Evanston campus.
The reception was followed by a ceremony in the Technological Institute's Ryan Family Auditorium to recognize graduating students who received the Distinguished Student Service Award, the Breed Prize, the Design & Innovation Award, and the Academic Excellence Award.
Dean Julio M. Ottino of the McCormick School of Engineering made remarks along with Professor Greg Holderfield, co-director of the MMM Program and the Segal Design Institute, and Associate Dean Matt Merrick of the Kellogg School of Management.
Merrick noted that ten percent of Kellogg graduates this year were part of the MMM Program before presenting the Distinguished Student Service Award to Stephanie Baranovic.
Distinguished Student Service Award
The Distinguished Student Service Award is given to a graduating student considered to be a shining example of dedication, scholarship, service, and leadership to the MMM Program.
"The MMM community is passionate and close-knit," said Baranovic. "It's humbling and rewarding to be recognized for leading and building the strong MMM community."
Baranovic was elected Vice President of the MMM Student Executive Committee. She also was the President of Kellogg Eatz and a Peer Advisor for international students at Kellogg. During the summer after her first year in MMM, Baranovic completed an internship as a Product Manager with Activision Blizzard.
When asked what she valued most about the MMM Program, Baranovic said, "I appreciate that the MMM Program allowed me to have a creative and innovative outlet throughout business school. While the Kellogg portion of our experience can be more analytical and 'black and white,' the Design Innovation side allows us to think creatively and embrace ambiguity."
Breed Prize
Professor Holderfield presented the Breed Prize to Alex Eng.
The Breed Prize is given "in the spirit of Allen K. Breed's entrepreneurial spirit, creativity, drive for innovation and devotion to manufacturing" to a graduating MMM student who has demonstrated outstanding potential for technology-based management, leadership, and innovation.
Eng said he felt "incredibly humbled and blessed" to have been nominated by his classmates for Breed Prize.
Eng was a Zell Fellow and a Resident at The Garage at Northwestern. He co-founded Slate, a startup that connects consumers with tattoo artists through a concierge service. Eng and his co-founders won $10,000 and the People's Choice award at the 2019 SXSW PitchTexas Competition. 
Eng shared the credit for the Breed Prize with his co-founder and fellow MMM graduate, Jack Burgas.
"I'm extremely lucky to have Jack as an amazing Slate co-founder and to have the support of so many other MMMs who are pursuing entrepreneurship—the award is all of ours!" said Eng.
Eng pointed to his cohort as the most impactful part of his MMM experience.
"I got to work with incredible teams for Research-Design-Build, Business Innovation Lab, Kellogg Design Challenge, and Slate," said Eng. "My classmates taught me how to be a better listener, synthesize insights, and courageously push boundaries."
After graduation, Eng will join Nike as a Strategy Manager in Portland, Oregon. 
Design & Innovation Award
Dean Ottino presented the Design & Innovation Award to Amelia Williams. The Design & Innovation Award recognizes a graduating MMM student who has demonstrated excellence in the pursuit and promotion of human-centered design at Northwestern. 
Williams was the Co-President of Fintech@Kellogg and the Second Year Director of Pride@Kellogg. 
"Being a part of the MMM class of '19 changed the course of my life," said Williams. "I entered the program hoping to make a career pivot into innovation and new product development. Achieving that has been a dream come true, but I'm even more grateful for the new vision I have of myself."
When asked about the most meaningful part of her MMM experience, Williams pointed to the positive culture created by her cohort.
"I am forever indebted to the MMM cohort," said Williams. "They were my role models, my support network, and my teammates. I grew because of their high standards and generous spirit."
After graduation, Williams will become a Product Manager at Marcus, an online bank recently launched by Goldman Sachs.
Academic Excellence Award
Professor Greg Holderfield presented the Academic Excellence Award to Jeff Carlson. The Academic Excellence Award is given to the graduating student with the highest overall grade point average.
Carlson expressed pride and surprise at receiving the Academic Excellence Award. 
"There are so many smart folks in the MMM program that I honestly had no expectation of winning any awards," said Carlson. "When my name was announced, I was shocked! But it feels good at the end of two years where I prioritized learning a lot to be recognized for my academic achievements."
As a Kellogg student, Carlson was involved with The Good Life, a part of the Kellogg Student Association that puts on student-led programming to help students understand, live out, and stay true to their values.
Looking back on his experience in the MMM Program, Carlson said what was most valuable to him was the mindset he learned.
"I go back to something that is core to good design and good innovation: listening to and having empathy for others around you," explained Carlson. "Throughout MMM, I learned again and again that first impressions can be misleading and that the way to real insights is through thoughtful questions, setting aside your preconceived notions, and being curious."
After graduation, Carlson will become a consultant at Bain & Company in Seattle.