Leveraging MMM Skill Set at Sephora's Innovation Lab
MMM '20 student focused on digital innovation during internship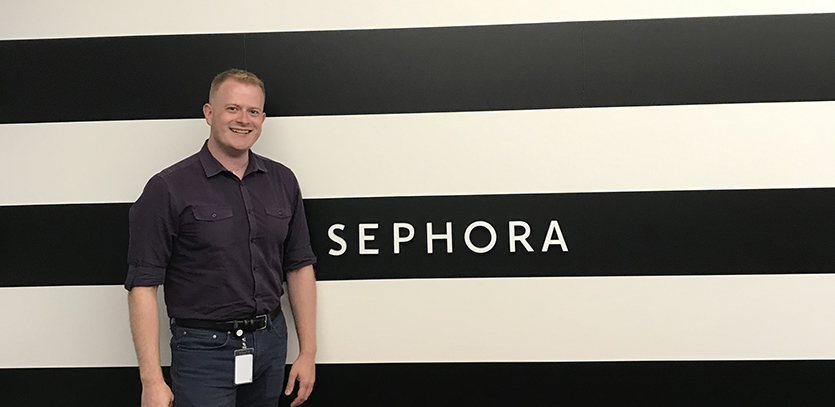 I'd be lying if I said I wasn't partly motivated by the slim chance of meeting Rihanna, but in reality, I landed at Sephora's Innovation Lab by following my passion for combining retail, innovation, and technology. The internship also seemed to be the ideal place to put my MMM skill set to the test.
My main project for the summer focused on store digital innovation— specifically employee enablement—to identify ways to increase productivity among store employees and increase their time spent with clients. Working cross-functionally was crucial for my project but also a necessity since the innovation lab is an extremely small team. I immediately started to meet with retail operations (thank you, Professor Chopra!), omni-retail strategy, and retail services to help me assess the business case.

Once I had some hypotheses to test, I did what any RDB-trained MMM would do: user research! If the end-user of my project is store employees, I wanted to make sure I incorporated their perspective, and struggles, into my recommendation. So I ventured out to a few stores to observe employees' habits and workarounds, then followed up to do some in-store interviews. (The hydrating facial I got during one interview was a nice bonus.)

One key insight that I took away was that employees are asked to do a lot of things throughout their day, but they often aren't sure how to prioritize their tasks, so they remain idle. My recommended solution became a dynamic tasking app that would list an employee's tasks for the day in the most efficient order.

The designer in me (and being an over-ambitious MBA student) couldn't resist building a hi-fidelity prototype for my idea. It helped to flex my design skills, but I knew I was selling my idea to our key stakeholders across many teams. Having a tangible product that I could walk people through helped me secure the executive buy-in we needed to move this project forward. Tying user insights with the power of storytelling created an unstoppable combo and seeing my impact over ten weeks has been amazing!

Even though the summer felt immeasurably short, I was pulled onto seven projects by the end of the ten weeks. I helped lead a design hackathon around reducing the financial liability of customer loyalty points. I executed a mini-research project around the opportunity spaces for Sephora and gaming/esports. I worked on the product redesign and roadmap for an internal application. I was also pulled into some projects around AI, including ways to connect machine learning with in-store camera technology. By highlighting my human-centered design skills and UX background during coffee chats with a bunch of people around the company, I became exposed to some of the incredible innovation happening in the real world (a.k.a. outside the bubble of Evanston). Most importantly, it showed me how much companies value the skills we are honing in MMM.