Q&A with Alyssa Lorenz, MMM '16
Identifying Innovative Technologies for Johnson & Johnson
This post is part of a series with three MMM alumni in which we ask them to reflect on their experiences in the MMM Program and how it has impacted their careers. Alyssa Lorenz (MMM '16) is a Marketing Manager with Johnson & Johnson Medical Devices in the healthcare industry.
When you started the MMM Program, did you know what industry you wanted to work in or were you still exploring?

AL: I knew I wanted to help people live healthier lives, but I wasn't set on exactly how to do that. As a result, in addition to exploring traditional healthcare opportunities, I also explored agriculture and lifestyle companies.

Was there a course you took during the MMM Program that made an impact on you?

The MMM course on which I most rely in my current role is Research-Design-Build. I like applying the traditional design thinking process to non-product-development business challenges, such as turning around a declining mature brand or innovating on contracting strategies for hospitals. Unmet needs can be identified and solved with so many other solutions outside of new products!

What words of advice do you have for a prospective student looking to make the most of their time in the MMM Program?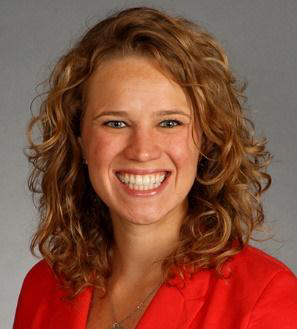 AL: Even after I decided to work in medical device marketing and product development, I chose other industries for my classes and course projects. I wanted to pull learnings and best practices from other sectors into healthcare, knowing that I'd learn the industry once I got there. Sometimes, I think students feel pressured to go all-in on their industry to become experts, but as we learn in Innovation Frontiers [now titled Innovation Effectiveness], a lot of innovation is pulling concepts that work in other sectors and applying it in new ways to your own. Without that exposure to other sectors, it's a lot harder to do that.

Reflecting on your experience in the MMM Program now that you're done, what do you appreciate most about it? 

AL: I'm most grateful for the opportunity to be a part of the faMMMily that my class became. I know that 20-30 years from now, I can reach out to anyone from my MMM class and they would help in any way they could. They helped me grow in so many ways, and we grew close enough to give each other honest real-time feedback and support each other through the craziness that Kellogg can be sometimes.

In addition to forming those relationships, my design innovation skill set has definitely helped me be successful in my role at J&J. Not only has it helped me develop my brand as a strategic thinker that can push teams outside of their comfort zones and solve challenges creatively, it has also helped me be selected for the Innovation and Pipeline team for our Digital Surgery and Robotics business. I get to uncover and prioritize the top unmet needs in surgery today and help J&J decide which technologies to acquire or capabilities to build in order to meet those needs after we launch our robotics platform through our joint venture with Google (still in development).

What's one extracurricular activity that you feel was most impactful during your experience at Kellogg?

AL: I joined the Martial Arts and Capoeira Club on a whim during the club fair, and I'm so glad I did! I hadn't even heard of capoeira before Kellogg, but it quickly became one of my favorite activities and a really great way to get exercise during the week. The Kellogg environment allows you to grow in so many unexpected ways as long as you keep an open mind. I had very little confidence in my athletic performance, but by the end of Kellogg, I performed capoeira at the Groupwerk Showcase in front of 400 classmates!