MMM Students Compete in VentureCat
Four startups founded by MMM students advance to semifinals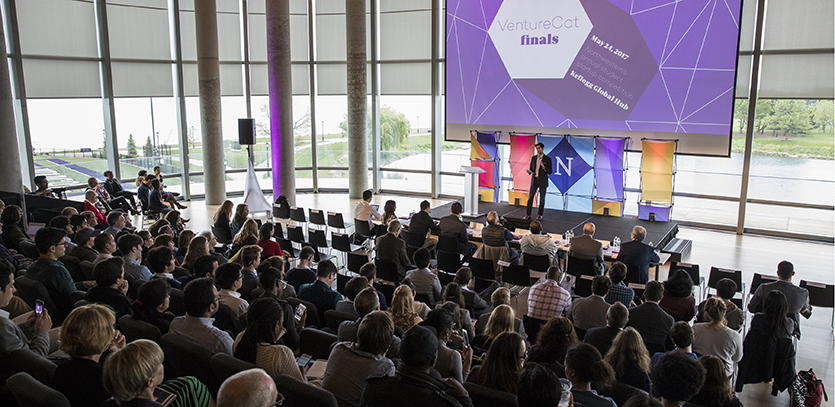 Students in the MMM Program arrive at Northwestern with the drive to innovate. Naturally, that drive leads some of them to launch their own startups while still in school.
In May, five MMM students are getting a chance to hone their entrepreneurship skills while competing in VentureCat, an event celebrating Northwestern's most promising student-founded startups. VentureCat culminates with a pitch competition on May 23, 2018, in which over $100,000 in prize money will be distributed to student ventures.
Four of the thirty Wildcat startups that have advanced to the semifinals of VentureCat are led by MMM students. These teams participate in the Four Week Semifinalist Prep Program, which began on April 23. The program includes pitch coaching, advice from industry experts, and professional graphic design support. The teams compete in six industry tracks and the first place winner of each track will take the main stage to compete for the grand prize at the VentureCat Finals in front of an audience of hundreds of students, alumni, and investors.
VentureCat is a collaborative event at Northwestern, including efforts through The Farley Center for Entrepreneurship and Innovation, The Kellogg School of Management, the Donald Pritzker Entrepreneurship Law Center and The Garage.
Meet the five MMM students behind four startups --2nd Kitchen, Commit, BackWave Technologies, and reBLEND -- who are working hard to make it to the main stage.
2nd Kitchen
Two years ago, Nick Anastasiades (MMM '18) and fellow Kellogg student Brandon Lassoff founded 2nd Kitchen, a platform that connects bars to restaurants in their neighborhood so customers can seamlessly order food to the bar in minutes.
The idea for 2nd Kitchen took shape while Anastasiades was working on a pizza delivery startup.
"One of our marketing campaigns involved working with neighborhood bars," said Anastasiades. "After many discussions with bar owners, we realized that bars that don't have kitchens are losing potential revenue, especially when customers leave the bar to eat. It is a solution to a problem faced by 25,000 bars in the US."
Anastasiades likes the format of the VentureCat competition.
"The experience allows us to package our innovation so a crowd and a panel of judges can grasp the idea and be convinced of the business model in six minutes," said Anastasiades. "Only the clearest, simplest and most customer-centric ideas will make the cut, and in my opinion, this format brings out the best in entrepreneurs."
Like his fellow MMMs in the VentureCat Four Week Semifinalist Prep Program, Anastasiades has found the MMM Program to be a supportive community for entrepreneurship.
"Not only are 3 other MMMs participating in VentureCat, but 8 others are also part of the Zell Fellowship, which is a cohort of Kellogg entrepreneurs," said Anastasiades. "My peers are also very supportive, and have been ready to provide a helping hand whenever we needed them."
Anastasiades praised the MMM curriculum for helping him with 2nd Kitchen.
"MMM courses have guided us throughout the process, from ideation to execution," said Anastasiades. "Research-Design-Build helped us hone in the problem by focusing on customer needs, Programming Design helped us refine our front and back end programming skills, and Innovation in Context is currently helping us protect the intellectual property of the idea."
Commit
Kellogg students Mia Velasquez, Josh Kim, Dan Kolb, and Brittany Price founded Commit, a one-stop platform for event organizers in January. After the launch, they asked  Alex Eng (MMM '19) to join their team as a product manager. In his role, Eng incorporates design thinking practices to uncover insights about Commit's users and implement new product features.
Eng is enjoying his experience in the VentureCat Four Week Semifinalist Prep Program.
"The best part of participating in VentureCat is the community of other entrepreneurs," said Eng. "I love being exposed to all of the great ideas, teams, and companies being built around NU."
Along with some of his MMM classmates, Eng is enrolled in an experiential course at Kellogg called New Ventures Launch. The course is targeted to students with business concepts that have been tested to determine there is a compelling product-market fit.
"I am very proud that there are four other MMM's represented in [that course] and launching amazing start-ups. I think there is a lot of enthusiasm in our first-year class and hope to see more MMM's take a shot at launching a company next year!"
Eng is also working with a design boot camp called Designation UI/UX that is based out of 1871, a startup incubator in Chicago. There, Eng leads a team of designers to explore Commit's target users and prototype solutions. He pointed to two MMM courses, Research-Design-Build and Programming Design, as essential preparation for that work.
"Going through this process in [Research-Design-Build] really positioned me well to participate in the design process as a client," said Eng. "Furthermore, Commit is built on Ruby which is the language we're learning in Programming Design so as I define future state product features, I now understand how to build these using Ruby."
BackWave Technologies
Robbie Sutkay (MMM '19) and Andrew Cabodi (MMM '18) founded BackWave Technologies with Kellogg student Doug Clarke. BackWave is developing a noninvasive device that measures cardiac output to detect and prevent acute exacerbations of heart failure.
Cabodi was exposed to the problem of heart failure hospitalizations in a different startup. As he explored the issue, he realized that patients were looking for solutions to monitor their disease. Cabodi assembled a team and began to adopt recent research out of Europe to commercialize as a noninvasive diagnostic device for heart failure patients. Sutkay joined the team because of his previous experience with cardiac medical devices in the heart failure space.
"We are deep in product development and currently have our first prototype that we are refining," said Sutkay. "We hope that VentureCat will provide us with the necessary resources to take the development to the next level."
The team behind BackWave Technologies has found the VentureCat Four Week Semifinalist Prep Program beneficial so far.
"As a startup, you have a lot to gain from support and mentorship, and VentureCat is a great resource with a wealth of experts to help you," said Sutkay. "We've had the opportunity to review our pitch deck with mentors of all different backgrounds."
Cabodi and Sutkay have found a supportive community among their fellow MMM students when it comes to launching a startup.
"We may be biased, but we think MMMs over-represent in the entrepreneurial programs at Kellogg and more broadly at Northwestern," said Sutkay. "I think we self-select into a group that thinks about the world differently and is both willing and excited to try novel ideas to buck the status-quo."
Sutkay pointed to Research-Design-Build and Business Innovation Lab, MMM-exclusive courses, as essential to their success in building BackWave Technologies.
"When we first decided to move forward with a heart failure device, we did dozens of customer discovery interviews to make sure there was significant demand for what we are creating," said Sutkay. "The skills learned in Research-Design-Build and Business Innovation Lab were crucial in conducting this ethnographic research and then compiling insights from the conversations."
reBLEND
Kathryn Bernell (MMM '18) is the founder behind reBLEND, a startup that sources misshapen produce and crafts smoothies out of them. Her teammates are fellow Kellogg students Kathy Duan and Danielle Fox.
Bernell's journey in entrepreneurship began in summer 2017 when she took a MMM course called Innovation Frontiers taught by Larry Keeley, president of the innovation strategy firm Doblin.
"reBLEND is a constant roller-coaster," explained Bernell. "Our team is thrilled to see the positive reception we have had with our customers and channel partners thus far and we are now working actively to gear up our production."
As part of the VentureCat Four Week Semifinalist Prep Program, Bernell has participated in workshops focused on building a better pitch and met with professors and local entrepreneurs.
"VentureCat is a great opportunity to connect with the broader Northwestern entrepreneurial community," said Bernell. "There are so many great teams building new ventures across campus, and VentureCat has allowed the community to come together."
Bernell has been able to utilize lessons learned in MMM courses while working on reBLEND.
"Our Visual Design class has played a critical role in my ability to tell reBLEND's brand story and our team's ability to best communicate our venture to a wide array of audiences," said Bernell. "Additionally, our [Research-Design-Build] course instilled the importance of rapid prototyping which has enabled our ability to get product into market, test it out, and iterate towards a more user-centric solution."