Leveraging MMM Skills with New Venture Discovery
I came to Kellogg with the intention of immersing myself in entrepreneurship, innovation, and design. It's the reason why when I was searching for an MBA program to fit my needs, I said to myself immediately, I want to be a MMM. In the MMM Program, the "Innovation Frontiers" course laid the foundation for systems thinking and the "Research Design Build" course was a great introduction to design thinking and design research. Experiencing separation anxiety from a design practicum in the winter quarter, I decided to take "New Venture Discovery."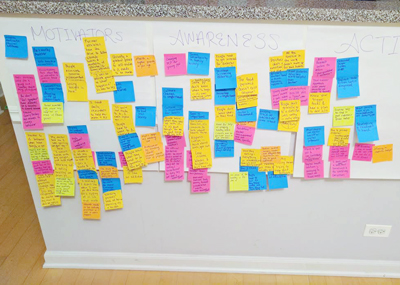 "New Venture Discovery" is offered by the Kellogg Innovation and Entrepreneurship Initiative and allows students to take a problem and start to formulate an idea and a lightweight solution. Having already taken "Research Design Build," I constantly placed an emphasis on desirability and not solutioning too early. I went into "New Venture Discovery" armed with a toolkit of skills like how to come up with the right set of questions for our discussion guides, how to cluster insights to find pain points, and how to lightweight storyboard. This helped my team get to the emotional core of the problem we were trying to solve. 
My professor for "New Venture Discovery" was Carter Cast. Cast brings a wealth of knowledge from his time as a CEO, working in early and growth stage companies, and as a venture capitalist. He set an expectation that students are going to get outside the classroom to hone and refine what makes each idea sticky. As a MMM who loves the design process and the ambiguity of trying to tackle a problem without an easy solution, I was excited to continue to apply what I had already learned as a MMM in every class. It is expected that students will pivot throughout the class. My team started working on an idea to help mitigate the risks of diabetes and ended up on a solution for first time moms, which my teammate will be taking into the Wildfire Accelerator in The Garage at Northwestern this summer. I could tell when members of my team were uncomfortable with ambiguity, yet I knew that if we trusted the process, good things would happen on the other end. 
We constantly had experts from Gravitytank x Salesforce, IDEO, Venture Capital firms, and early stage startups walk us through various steps of the design process or ask us probing questions to figure out what could stop our ideas in their tracks. There was a seriousness to the class that I respected, knowing that real business had been launched from this program before, but at the same time, we were encouraged to have fun.
I was reminded in this class how much I enjoy the discovery phase of the innovation process and that I want to go through it over and over again. Going through the design process again helped me solidify my choice for my summer internship in design and onnovation and my desire to take advantage of all of the resources available to aspiring entrepreneurs and innovators as a MMM.