IA Collaborative Design Director Speaks to MMM Students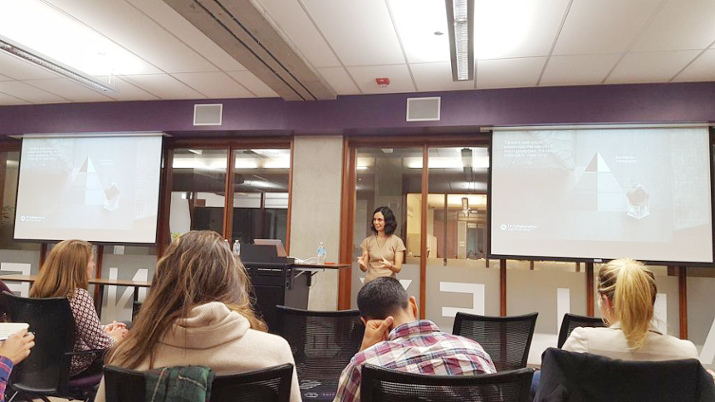 The MMM Program welcomed Rebecca Gimenez, Design Director at global design and innovation consultancy IA Collaborative in February for an titled "Integrate: The Road Ahead: Travel & Hospitality in 2017 and Beyond." Rebecca shared critical and emerging trends impacting companies all along the travel and hospitality value chain – and offered advice for students in the MMM program to become champions of meaningful innovation in this space. Current MMM student Stephie Jane Hass attended the event and wrote about her experience.

In travel, IA Collaborative has identified three interdependent trends:
Invisible intelligence
Hyper personalization
Authentic immersion
First, invisible intelligence. Pervasive computing has created conditions where customers expect seamless interactions across any channel at any time. Yet increasing automation produces a tension- people begin to miss for human interaction. A shadow trend is the emerging focus on teaching machines emotional intelligence. For example, Facebook now has a "Compassion Team" helping design for aspects of life that are painful or complicated, like a death or breakup. Reconciling invisible, always-on computer intelligence with emotional intelligence doesn't lead to one solution but rather a new territory for insight and innovation.
Hyperpersonalization reflects travelers' expectation that their experience will match their tastes and preferences. However, if something is completely tailored to an individual, people experience things in a fragmented way and miss out on shared moments and collective experiences. The opportunity for innovation lies in creating shared meaning out of idiosyncratic tastes- for example, Remote Year, which is a program for freelancers to travel the world together, or EatWith, which allows travelers to have dinner with new people in a new place.
Authentic immersion refers to travelers seeking unique experiences they can't find in guidebooks- for example, "off the beaten path" excursions or opportunities to "live like a local." The tension is that authenticity is scarce and unique by definition – it's difficult to scale or package. The shadow trend here is mass escapism- something that takes people out of the every day. It could be a VR or AR experience – reframing what it actually means to travel.
So how do we innovate in a rapidly changing, increasingly complex world? The key takeaways from Gimenez were first, be a seeker. Stretch your perspective outside of your industry and discipline. Second, innovate at every scale. Add profound value and create joy regardless of scope of the project. Third, embrace evolution. All delight becomes expectation so keep going.
Image credit: IA Collaborative