Solving a Business Challenge with Design Thinking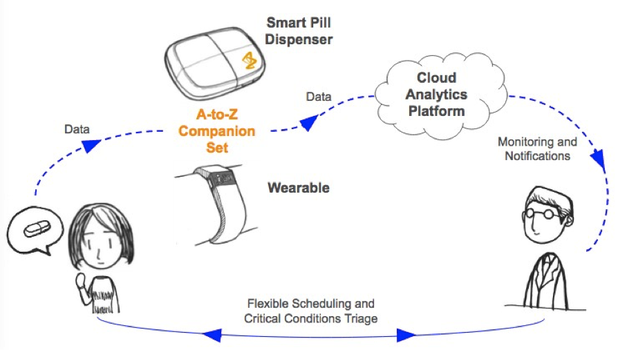 Coming from a background in finance and engineering, I often solve business problems and improve operational performance using hypothesis-based analytical thinking and data analysis.
When I was exposed to the design thinking approach for the first time as a MMM student, it struck me how many transformative design innovations have been created with this approach. Last quarter, I had a great opportunity to learn and practice design thinking in a real-life application by participating in the Kellogg Business Design Challenge (KBDC), an annual competition hosted by the IDEA club.
This year's challenge was to leverage technology trends in consumer healthcare to revolutionize the way patients engage with their healthcare providers.
The sponsor, AstraZeneca, is a global innovation-driven biopharmaceutical company.
During our team's brainstorming session, one of our teammates shared a heartbreaking story about how her friend, who suffers from bipolar disorder, ended up in the emergency room four times in the past few years. We were intrigued by the story, and we wanted to tackle the pain points in the mental health field.
Through numerous in-depth ethnographic interviews with patients and doctors, we identified the following pain points:
Lack of compliance and tracking of medication
Difficulties squeezing patients' urgent appointment requests into a doctor's existing schedule
Inability to triage patients ahead of a mental breakdown
All of these could lead to deterioration of the patient's condition and unnecessary, expensive ER visits.
Throughout the whole process, the IDEA club offered multiple useful workshops in design research, led by innovators from design consulting firms such as Gravity Tank. We learned how to come in from the point of view of what people value and what their needs are, as well as to focus more on user-centered ideas that would resonate with the end users.
To get the most out of this process, our team followed the design thinking method while leveraging our diverse background to spark unique ideas. I could not be more proud of our enthusiastic and diverse team: Seoan (neuroscientist), Jinsoo (industrial designer), Jonathan (percussionist), Laura (strategy consultant), Catie (corporate strategist in Oncology) and myself (financial engineer).
The design thinking approach led our mind maps further and further. We explored ethnographic, open and generative ways users and other stakeholders think and behave —with no pre-conceived hypothesis to test. As we branched out, we were getting to new ground. That's where the amazing design ideas happen.
After numerous iterations, we came up with a solution that provides better communication and flexible scheduling between patients and doctors; it also enables doctors to provide preventive care for patients with mental health disease. By leveraging the Internet of Things and Cloud technology, we designed an A-to-Z companion set that includes a smart pill dispenser, a physical activity tracking wearable device and a patient analytics cloud platform.
I believe that technology will become the connective tissue that holds together the continuum of care, and patient data has to be open and shared to drive new discoveries. On the day of the final presentation, we were all extremely excited and couldn't wait to present what we achieved over the past months. The five of us narrated an engaging user story with a beautifully sketched storyboard, and our delicate 3D-printed working prototype won us a big applause.
After a discussion among the judges, we came in second place in the competition. We were extremely happy with what we delivered.
Also invaluable was the incredible experience of going through the whole design thinking process as a team. To me, design thinking is a way to systematically be innovative. I would love to further develop the ability to think at a system level of design that synthesizes design, technology and business. Equipped with both business and design thinking skills, I can't wait to become a more confident leader who can better build an innovative and sustainable business.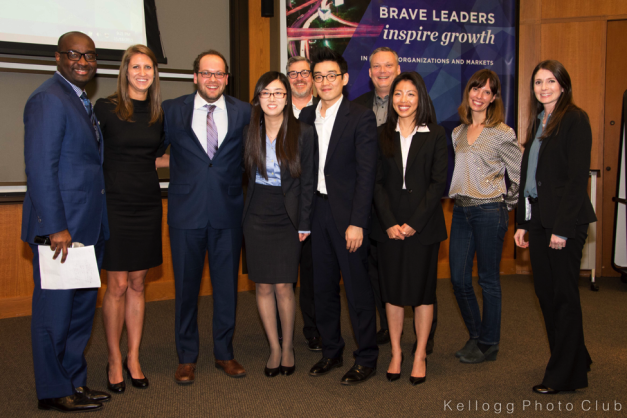 Kristen Zhou is a first-year student in the MMM program, focusing on Entrepreneurship and Data Analytics. Previously, she worked as a financial engineer in the Investment Management industry in New York City. She is looking to drive innovation in the high-tech industry as a product manager.