Bringing Design Thinking to the Healthcare Industry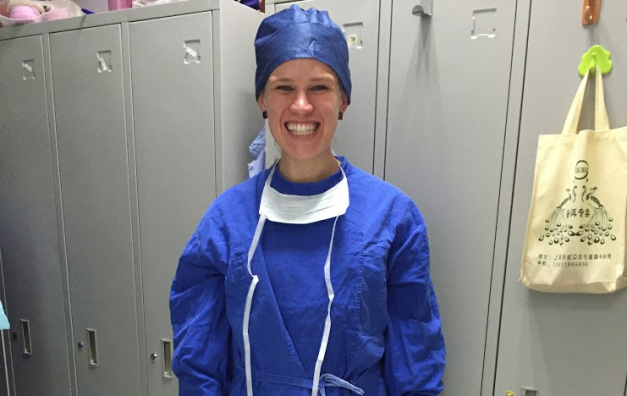 This is part of an ongoing series highlighting MMM summer internship experiences.
Name: Alyssa Lorenz
Industry: Medical Devices
Company: Johnson & Johnson
Function: New Product Development / Global Strategic Marketing
Location: Cincinnati, Ohio
I have always been passionate about health and wellness, and I've recently become interested in using design thinking to create patient-centered solutions that improve health outcomes and access to care.
As a result, I was super excited for the opportunity to work on a global new product development project at Johnson & Johnson Medical Devices this summer. They're developing a new product that's primarily targeted at one cancer procedure, and my job was to understand how the current product could and could not meet needs I uncovered in a different cancer procedure.
I then worked with our R&D, Industrial Design, Global Business Insights and Surgical Innovation teams to ideate around design changes that would allow the product to better meet the needs for this procedure and develop a strategy and business case for these changes.
I followed the entire Design Thinking framework, from observations to insights to "how might we" statements to potential solutions, always with the needs of the surgeon and patient in mind.
I was surprised by how entrepreneurial my job felt the entire time, especially at such a giant company. My team gave me this problem to solve and then let me try to solve it however I saw fit, using mostly tools and frameworks that I learned as a MMM student. Also, since my procedure was performed mostly in Asia, I spent significant time working with Asia-Pac teams and even traveled to China to perform ethnographic research.
The culture at J&J is incredibly welcoming and supportive, with a strong system of mentors and personal/professional development, and the Company works hard to take care of its people. Most importantly, I felt like my job had a purpose — trying to improve outcomes for cancer surgery (aka save lives!) — so it was easy to be excited and passionate about my work, no matter how challenging.
I think people have this idea that innovation and design are most relevant in high tech or consumer products, but they can be so powerful and influential when also applied to healthcare. It's amazing!
In addition to loving my job, Cincinnati was also a pleasant surprise! There are a ton of urban parks throughout the city for hiking, a huge restaurant and craft brewery scene, many walkable neighborhoods, running/biking clubs, and free concerts throughout the summer. I was hesitant at first to go somewhere without a built-in Kellogg crew, but it pushed me to meet a lot of new awesome people and explore the city, something I really appreciated.