Modernizing and Expanding the MPD2 Program
Director Jim Wicks talks about changes to the Master of Product Design and Development Management (MPD2) program curriculum and how they will help students thrive now and in the future.
In February, Northwestern Engineering's Master of Product Design and Development Management (MPD2) program director Jim Wicks shared his thoughts on what excites him about the future of the program. Part of that future involves some changes to the curriculum.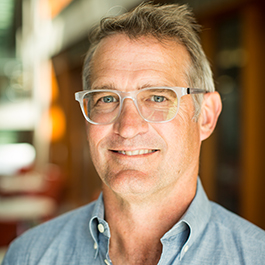 The tweaks were made after extensive conversations with industry leaders and MPD2 alumni to ensure students are leaving the program prepared to succeed and lead in the world of product design and development. Wicks recently discussed some of the high-level changes, including why they're being made and how they will help better position students to thrive in industry today. 
What is the biggest thing that's changing within the MPD2 curriculum?
More than anything else, we're bringing a mindset change that's meant to build on the great foundation already in place with a unique plan to modernize the program. In the past, the MPD2 program was a bit more focused on physical products, but today's progressive businesses are driven by a more complex network of products and services that must be fueled by human-centered insights, creativity, and rigorous analytics. We're also putting a strong emphasis on product management, which is one of the most popular jobs our students are pursuing after they graduate.
Is the program going to offer any courses specifically on product management, or will that be a topic that's baked into already existing courses? 
Yes, and yes. Product management will definitely be a focus within many of our existing classes, but this spring we also are launching a new product management course for first-year students that will be taught by Birju Shah, who is a highly regarded instructor on campus when it comes to product management. His class teaches students to pitch, launch, and scale their own product ideas. In that class, students will again focus on software and services, and will come to understand what the role of product manager looks like within many organizations. 
While MPD2 courses are traditionally five weeks long, this one will be 10 weeks so students can take a deeper dive into the concepts, skills, and processes necessary to thrive in product management. That class will also be offered with students from Northwestern's Engineering Design Innovation (EDI) program and MMM, a dual-degree program between Northwestern Engineering and the Kellogg School of Management, allowing MPD2 students to engage and interact with other students across campus, similar to how they'll be interacting with a variety of team members in their professional settings. 
Will that be the only 10-week course in the curriculum?
No, we're also taking our Business Model Design class, which used to be offered as a five-week course during students' second year in the program, and we're extending it to 10 weeks. That course is now going to be co-taught by John Renaldi and Mike Edmonds. John is the founder and former CEO of Jiobit, which was recently acquired by Life360 and is about to join Google as a lead of mobile software for the Android platform, and Mike is now a business strategy leader at Microsoft who already teaches a course at Northwestern about mindful product management. 
Their course is now going to allow students to better understand how to iterate and test different business models, specifically in terms of what the students are designing as part of their capstone. Students will explore how to go to market, how to position, and how to refine their business models based on what makes the most sense for their projects. What's great about John and Mike is both guys bring a robust understanding of contemporary business models and how to evaluate them in the context of your product offering.The longer timeline will also allow students to learn more about newer concepts like blockchain and understand how it has a major impact on how to define products and conceive business models. 
You mentioned processes earlier. Are there other processes like agile or scrum that will be more strongly emphasized?
Absolutely. One goal that we're more focused on with second-year students is teaching them how to lead and participate in the creative design sprint process, which goes along with agile and scrum, and is a more contemporary approach to designing in industry right now. The goal with that, and really with all the tweaks and refinements we're doing to the program, is to make sure that when students graduate they will be better positioned to lead in a fast-paced software, product, and services industry — no matter the industry — with a more holistic and contemporary set of tools and skills to lead product design and development.