Looking Forward to the Future of mpd²
Jim Wicks, mpd² program director, shares what inspires him about Northwestern Engineering's Master of Product Design and Development Management (mpd²) program and what has him excited for the future.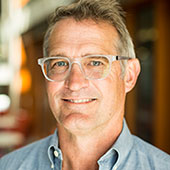 There is a rich heritage that exists within Northwestern Engineering's Master of Product Design and Development Management (mpd²) program. When professor emeritus Walter Herbst created the program more than 20 years ago, it was the only one of its kind in the country to offer a blend of content taught in a traditional business school setting with an intentional emphasis on product design. 
I'm honored to follow in his footsteps as mpd² program director and continue to help propel the program — and our students — forward. 
First and foremost, rest assured that mpd² will continue to be centered on this mix of business education and foundational product design and development leadership. Our students tend to be one of two types of people:  
Those who are successful in their current role and want to elevate their careers into more senior product management roles

Those who want to re-vector their current career to one in the area of product development and management
Each of those audiences benefits from the program's innovative curriculum, and it will only evolve as we help students understand how to solve the biggest obstacles facing businesses today. We're going to aggressively address changes across the business landscape, almost all of which come back to people and technology of some sort.
We pack a lot of content into a relatively quick program. Students take 24 five-week courses: full-time students finish the program in nine months while part-time students can complete their degree in two years. It moves fast, but students are able to leave with an invaluable breadth and depth of knowledge. 
Technology is evolving quickly and our circumstances have changed dramatically over the last couple of years due to the COVID-19 pandemic, so we will purposefully apply more focus on how these changes are affecting the design and development of software and services. Additional teaching will include blockchain, artificial intelligence, machine learning, ethics and digital marketing.
I am also excited about more aggressively interacting with and leveraging our passionate alumni base. It's not often that you see engaged alumni from graduate programs, particularly one that is largely made up of part-time students. This program is different, though, and I'm looking forward to further incorporating them into the classroom and student experience. So all you graduates reading this … be prepared to hear from me! 
If you're a prospective student, I urge you to take some time to explore how our program can help you grow. The best mpd² students are people looking to raise their own ceiling and increase their potential. We want to prepare you by providing the best aspects of an MBA along with contemporary product design, development, and management opportunities.
This program was unique when it launched, and it continues to be an outlier. I am excited with what we are planning for the future of mpd².