Designing Products People Love
Bridget McMullan (MPD2 '17) is using her MPD2 knowledge to meet member needs as director of product strategy at Anthem, America's largest for-profit health insurer.
Bridget McMullan expected that falsified or lost COVID-19 vaccine cards would be a problem for the public once vaccinations became available.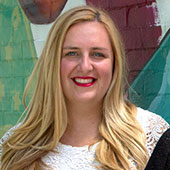 As the director of product strategy at Anthem, the country's largest for-profit health insurer, McMullan (MPD2 '17) analyzed her company's research, saw there would be what she called a "digital gap" with paper vaccine cards, then set out to find a solution. 
"Families and employers needed to assess the risk of visiting or returning to the office," she said. "Taking a photo was not secure or easy to find quickly, a physical card could get lost, and digital proof was needed for safety." 
McMullan led the development of Anthem's COVID Vaccine Pass, a tool that automatically integrates vaccine data from doctor's offices and clinics into members' health records to be shared securely. 
In the past year, the product was one of the most-used new features on Anthem's app. 
"Once a product is launched, the analytics tell the truth on whether it is successful," she said. "The more I've grown in my career, the more successful I have become at making that match." 
That's something McMullan and Anthem value.
"Across all industries, I've watched many companies struggle with getting quality data as well as learn how to correctly interpret that data," McMullan said. "We are living in a world of personalization, and companies are struggling to scale these offerings. Knowing this, most of my value comes from helping companies prioritize their research and value."
To do that, McMullan relies on her experiences in Northwestern Engineering's Master of Product Design and Development Management (MPD2) program. MPD2 is designed for experienced professionals who are looking to enhance more than just their product design skills. 
"There were few product-focused masters programs when I was searching for schools," she said. "You either had to choose a business, engineering, or design school. I was seeking a blend of all three, and I found that in MPD2. The program helped me grow professionally and personally through job opportunities, helping me grow my network, and introducing me to life-long friends." 
In addition to the COVID Vaccine Pass, she also led the improved integration of Anthem's digital health record to help patients access and understand their health data more efficiently. The health record centralizes members' information from across multiple health systems and provides clearer context for things like lab test results over time. 
In addition to her work at Anthem, McMullan teaches lessons she learned in MPD2 in Design Thinking and Communication, a required course for all Northwestern engineering students. The class introduces the design thinking process while providing an opportunity for students to partner with outside clients to design a new product. It also stresses the importance of creating products that add value, not just coolness, to the marketplace. 
"Creating products is something I'm passionate about," she said. "I'm energized to make products people love."