Kara Smith
Job before MMM: Senior Strategy and Operations Consultant, Deloitte Consulting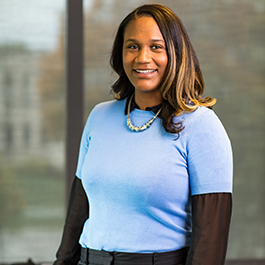 Hometown
Chicago, IL
Undergrad
Howard University, BBA Finance
Job Before Kellogg
Senior Strategy and Operations Consultant, Deloitte Consulting
Summer Internship
Strategic Partnerships Intern, Intersport
Activities at Kellogg
Co-President of the Sports Business Club, KWEST Leader, CIM Leader
Affiliated Programs
Why did you choose MMM?
I have played basketball all my life. After college, I was looking for a way to stay in shape and I decided to run in the 2014 Nike Women's Half Marathon Series in Washington, DC. It was, and still is, one of the best sports events that I have ever participated in or competed in. Nike thought about each touchpoint and designed an experience that was one of a kind for its participants and spectators. It was this event that led me to discover design thinking. At this time, I was working at Deloitte Consulting and I was able to use, my then small level of my design thinking knowledge on some projects. I really liked the impact that the design thinking process was having on me, my team and the business. I wanted to develop my design thinking toolkit and education, so I decided that the MMM program would be the best fit for me to gain a design thinking foundation and build my business skills. 
What is life like as a MMM student?
A highlight of my first year was the guidance and help I received from second years and professors. The start of this experience stated with KWEST where I had three MMM leaders. Throughout the year, I was mentored by my second-year MMMs and MMM professors. For my summer internship, I knew I wanted to take some risk and follow a burning desire I had, which was to work in sports. I wanted to explore how I could merge design thinking and sports. The second-year MMMs and professors gave me advice on how to position myself and the unique MMM skillset when applying for internships. They helped me think deeply about what I wanted to gain out of the summer. One of my professors helped me build my proposal for a project for a sports organizations that I ran during the school year. Another highlight of my Kellogg experience was CIM. Coming out the summer with only MMM students, I was happy to meet the 2Y's and my section experience was awesome! My section helped me feel connected to the larger Kellogg community. My experience with CIM and KWEST is why I decided to lead KWEST and CIM. I wanted to pay it forward and provide the same assistance given to me.  From my experience at Deloitte, I knew that I enjoyed the limited experience that I had with Design Thinking, but I wanted to test whether I really enjoyed the work. RDB, Intersect CPG and, now, BIL have provided me an opportunity to dig deeper into design thinking and learn in a safe environment. Going into my second year, I feel like I have gained so much clarity on what I want to do next. 
How did MMM help you during your summer internship?
I want to work at the intersection of design + sports + business. This summer I worked at Intersport, a sports agency that provides a range of services. I interned within their strategic partnerships department. The sports industry is in a very interesting time. The industry is looking for innovative solutions that will keep up with the changing generational trends. I was able to brainstorm with the team to see how they could bring groundbreaking solutions to the clients that would set them apart in the marketplace. The experiential learning in MMM allowed me to be comfortable in a more creative environment. 
Back to top