Umang Shukla
Job before MMM: Principal Consultant at Applied Predictive Technologies
Job after MMM: Bain & Company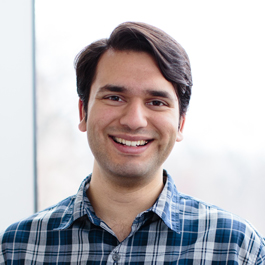 Hometown
Knoxville, Tennessee
Undergrad
Harvard University - Physics
Job Before Kellogg
Principal Consultant at Applied Predictive Technologies
Activities at Kellogg
Net Impact, IDEA, Kellogg Board Fellows, DAK Section Leader, Student Admissions, and Special K!
Affiliated Programs
What has surprised you about the MMM?
I've been amazed by how close knit we are as a community. I chose MMM because I wanted to round out my consulting skillset with creative problem skills and a focus on consumer desirability, but within days of starting the program in the summer, I knew that beyond two new degrees, I was getting fifty-nine new best friends.
What has been your favorite Kellogg/MMM memory?
The night before our final Research-Design-Build presentations were due, it was getting late and we were getting loopy. My roommate Mark (also a MMM) had been joking about making tiny chicken and waffles for the team for the past several weeks, and just when spirits were lowest, he pulled out the miniature waffle iron we bought and helped us fuel up to get to the finish line.
What is your favorite gadget/product/service and why?
The brilliant design of soda cans. Up until the 1970s, cans had pull-away tabs with sharp edges that people discarded on beaches, around playgrounds, and in parks, leading to lacerations (primarily for children). Now, stay-tabs aren't removed from cans without effort, reducing litter and risk alike.
The trip you are daydreaming about?
I've visited 46 of 50 states (missing Alaska, Hawaii, and the Dakotas).
Back to top