Shriansh Shrivastava
Senior Product Manager, American Express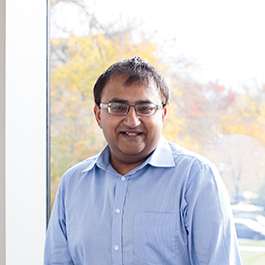 About
Shriansh's experience ranges from innovation in the mobile telecommunications space (UK), to mental health and suicide prevention (Canada), to Product Marketing Management (USA). He started his career at Ericsson in the UK, where he was part of the team that launched the iPhone in Indonesia and released the first-ever MiFi in the UK. Next, he moved to Canada and worked for a year with Mental Health and Suicide Prevention Organization, designing on-the-go training courses on suicide prevention for physicians. While Shriansh was a MMM student, he interned at Dell in Austin as a Product Marketing Manager during the summer and launched a startup. After graduating from the MMM Program in 2016, he returned to the UK and began working as a Senior Product Manager at American Express (Amex). At Amex, Shriansh has launched award-winning products provide Amex cardmembers with delightful and personalized experiences.
Q & A
How has MMM made a difference in your career?
The expertise in design thinking that MMM teaches definitely gives you a leg up, although the benefits are hidden (nowhere on a job spec will you find "Must have a Masters in Design Innovation," for instance). The little things you learn in MMM start making a difference in your work, especially if you're in Product Management. When thinking about my product, for instance, I always tend to think users-up, rather than technology-down. I know that to make something that's useful and enticing, you need to involve designers and researchers from the very beginning (something that doesn't come naturally to those who are used to working in traditional corporations). A side effect of doing this is a better dynamic and higher levels of camaraderie within your product team. That is basically my way of saying that MMM has definitely made me a better Product Manager!
What advice do you have for a student just starting the MMM Program?
Don't let the design thinking bits of MMM fall to the sidelines as you move through the MBA journey. Keep honing those skills by taking part in competitions and then forcing yourself and your team to apply design principles. Work on making your decks less consultant-like. And above all, make friends. The MMM cohort tends to be much closer than the rest of the Kellogg MBA class, and this is an ideal opportunity to make friends that'll last you a lifetime.
Back to top