Barry Shafrin
Job before MMM: Professional Actor, Educational Consultant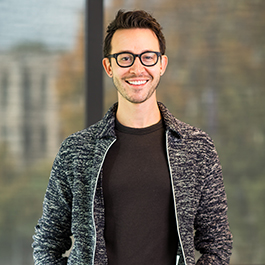 Hometown
Milwaukee, WI
Undergrad
Harvard College– Psychology and Theater Arts
Job Before Kellogg
Professional Actor, Private Tutor + Educational Consultant (CATES Tutoring, Success Academy Charter Schools)
Summer Internship
Strategy Intern, SYPartners
Activities at Kellogg
MMM Section Committee - VP of Academics, Pride@Kellogg
Affiliated Programs
Why did you choose MMM?
Coming from a nontraditional background, an MBA was never a predetermined part of professional journey. I worked as an actor in NYC for most of my 20s, when I shifted into education startups and nonprofits. With experience traversing two very different fields, I found myself craving a role which would combine the creativity and collaboration of my first path with the hands-on impact of working with students. An MBA emerged as an opportunity to explore potential paths and build my confidence in core business frameworks. And while MMM perfectly represented the hybrid left-brain/right-brain style I was seeking professionally, I had some reservations about whether the added requirements of a dual degree would force me to sacrifice key parts of the MBA experience. But, truly, MMM has been a value-add along nearly every dimension of academic, social, and personal growth. I cannot overstate the value of the MMM community, an incredibly eclectic group of like-minded wackos who were able to immediately recognize and highlight my value when I doubted myself and push me into leadership opportunities I may have shied away from. Beyond the skills MMM has imparted, it is this group of peers that I cherish the most and am thankful to be taking with me when I graduate this year. 
What is life like as a MMM student?
Yes, Kellogg likes to party. But it's been the more intimate opportunities to connect with my peers on a deeper level that I've really cherished. From formal small group dinners organized by clubs to storytelling sessions organized by friends and section mates to organic conversations that pop up in the most unexpected places, I've been continually surprised by my classmates' willingness to open up and share unique or difficult moments from their lives. It's pushed me to be more vulnerable about my own experience and given rise to some of the friendships that value most. 
How did MMM help you during your summer internship?
I can report with 100% certainty that I would not have gotten my internship on the Strategy team at SYPartners without MMM. I know this because I applied for the same internship several years ago...and did not get it. It was incredibly powerful to compare the original materials I submitted prior to business school with the portfolio I put together last spring (with generous encouragement and late-night editing from my MMM peers). They looked like they were created by different people. It was a heartening moment to remind myself how far I have come and how grateful I am for the instruction I've received through MMM, particularly in RDB. I entered my internship confident in my value and ready to hit the ground running day one. Over the summer I collaborated on projects across private aviation, non-profit museums, and emerging urban social clubs. I never felt like an intern, but instead was able to leverage my creative background and design-thinking coursework to serve as a valued contributor to my project teams. Recruiting was definitely not my favorite part of my MBA, but it could not have worked out better and I'm incredibly grateful for the experience I got at SYPartners. 
Back to top