Brooke Schuler
Job before MMM: Senior Account Executive, T3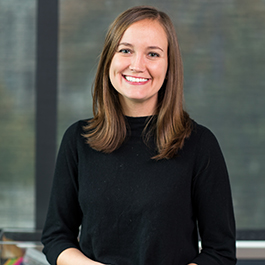 Hometown
Houston, TX
Undergrad
The University of Virginia – BA in American Studies; Minor in Leadership 
Job Before Kellogg
Senior Account Executive, T3
Summer Internship
Summer Consultant, BCG
Activities at Kellogg
Kellogg Cares Day, Co-President; IDEA Club, VP of Careers and Alumni; Kellogg Board Fellow, ex-officio board member on the Kohl Children's Museum in Glenview; Student Admissions Committee, Application Reader; Kellogg Consulting Club, Member; Women's Business Association, Member
Affiliated Programs
Why did you choose MMM?
In seeking an MBA, my highest priority was to find a challenging program that valued holistic thinking, a program in which I could deepen my knowledge of innovation processes and design thinking, as much as build a foundation in business fundamentals. The MMM program is the perfect fit based on my background, future interests, and learning style. In advertising, I approached every project with the full force of a multidisciplinary team. My team consisted of designers, writers, strategists, developers, and media experts, among others. MMM believes in solving business problems through this same approach, and I am gaining insights and practicing skills that will help me lead multidisciplinary teams in the future. This summer, I will be working at BCG. MMM has uniquely prepared me for this experience through its experiential learning curriculum. In Research-Design-Build, we partnered with a real client to help them solve a complex business problem. My team worked together to learn quickly about a new industry, conduct smart, human-centered research, and present our solution to the clients in a compelling way. All of these skills will help me to be successful in my consulting career. From a learning style perspective, I learn best when I can apply academic concepts to real-world, open-ended projects. MMM values creativity and equips us with frameworks and tools to approach complex problems that lack clear answers. While our work can certainly be time-consuming and challenging, it's the perfect opportunity to learn by doing in a risk-free setting.
What is life like as a MMM student?
There are so many wonderful parts of the MMM program that it's difficult to narrow down. Here are three of my favorite things about MMM. First, the faMMM. My fellow MMMs are thoughtful and supportive. While there are many examples, one stands out. I moved into my apartment shortly after classes began. Due to miscommunication, my movers canceled on me at the last second, leaving me stranded at 8:00 pm on a Wednesday night. I posted on Slack and within five minutes, 25 MMMs had volunteered to help me unload my belongings. It meant a lot to me that people I had just met were so willing to drop everything to help. Second, social. I've found that MMMs are always down to explore. During the summer, I posted on Slack about a food festival in downtown Chicago. A group of MMMs came with me and it ended up being such a blast. The venue had a DJ and though no one else was dancing, we collectively decided to get the dance floor started. We were having such a good time that strangers joined in, including the famous chef Graham Elliot. Third, Kellogg leadership. As MMMs, we are just as much a part of Kellogg as everyone else. One of my favorite things is seeing so many MMMs serve as leaders of Kellogg clubs and groups. Kellogg students are passionate and talented, and I appreciate being able to share our own perspectives and experiences with this amazing group of people. 
How did MMM help you during your summer internship?
At BCG this summer, I was placed on a pricing and menu architecture case on a restaurant brand. An important component of the case was to understand the client's customers, including things like what brought them to the restaurant, what they valued, their willingness to pay, etc. I was excited to learn that an important element in our research plan was to conduct customer intercepts, something that I had learned about and practiced many times during the first year MMM curriculum.I organized a group of fellow interns to come with me to my client's restaurant and a number of their competitors. Each time I spoke with a table of guests, I took another intern with me to take notes and then spent time debriefing with them, adding notes not just about what was directly said, but also what we observed. After one of the intercepts, my intern partner remarked that he was impressed by how much strangers were willing to share with me, especially about their eating habits! I credit a huge part of that ability to MMM, especially from our Research-Design-Build class during which I had conducted customer intercepts, in-home interviews, and customer shop-alongs. While we relied more heavily on a large customer survey to justify our business recommendations, the customer intercepts helped us to form our initial hypotheses. One of my case teammates shared that the data I had collected from Houston was so thorough that he ended up basing a significant portion of the competitive benchmarking against the Houston market. I am extremely grateful to MMM for helping me add value to my case team, even in a more traditional "business" role.
Back to top