Abhishek Ravi
Job before MMM: Senior Product Manager, Visa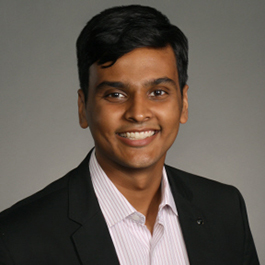 Hometown
Chennai, India
Undergrad
National University of Singapore – Computer Engineering
Job Before Kellogg
Senior Product Manager, Visa
Summer Internship
Product Manager, BCG DV
Activities at Kellogg
KSA VP of Global Affairs, Special K!, Kellogg Improv, Fintech Club, Admissions Committee
Affiliated Programs
Why did you choose MMM?
Prior to Kellogg, I had the opportunity to work with closely numerous client banks across Southeast Asia to co-develop numerous digital product solutions. The product development methodology was very human-centric, starting with in-depth ethnographic interviews to truly understand consumer pain points, and working in small agile teams to bring solutions to life that address these pain points. The success of the process helped me see the incredible value that design thinking brought to the table. This made the MMM program my top choice for graduate school - I wanted to truly understand the tools and techniques behind human-centric design processes, and be comfortable applying these frameworks to a variety of industries I might find myself in in the future.
What is life like as a MMM student?
A highlight of my Kellogg and MMM life, as cheesy as it sounds, has been the fact that people ALWAYS have your back. This was exemplified on countless instances - I remember in week 1 where someone posted on slack saying her movers had failed her, and 30 MMM students volunteered to help. Another incident was during internship recruiting. Another MMM student, Claire Marsh, and I had both made it to a company's final round interview. We both knew that due to their highly limited headcount (~4-5 interns across the US), it was highly unlikely that they would choose two people from the same school. Normally, I would imagine our preparation process to be extremely private and borderline competitive. Yet, the two of us spent five hours on the weekend preparing together, helping each other and sharing documents we found helpful. To our delight, we both ended up with offers!
How did MMM help you during your summer internship?
I had a fantastic summer experience at BCG Digital Ventures. My role as a product manager involved working closely with engineers, designers, data scientists, and operations leads to build and deploy a product in the IoT/AI space. The MMM program helped prepared me well for this - the skills I developed in classes like Research-Design-Build, Innovation Frontiers and Visualization for Persuasion gave me tools that were all directly applicable!
Back to top