Rene Peters
Product Marketing Manager, Augmented Reality, Microsoft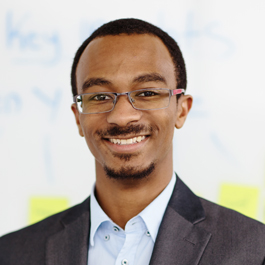 Undergrad
MIT - Chemical Engineering
Job Before MMM
Technical Engineering Manager at Procter & Gamble
Summer Internship
Product Marketing Management Intern, Cloud/Serverless, Microsoft
Job after MMM
Product Manager, AR/VR, NVIDIA
Affiliated Programs
Q & A
How have you leveraged MMM in your career so far?
MMM gave me a unique opportunity to work with real firms, such as Harley-Davidson and VISA, to workshop the design thinking skillset with real product issues. This has given me a new way to understand customer needs, and also a more compelling way to express ideas. In a space that is as undefined as the augmented reality space, being able to utilize those skills to chart the path forward is extremely helpful.
What advice do you have for a student starting the MMM Program?
As you go through the program, use the experiential classes to zero in on what unique aspect you bring to the design thinking process, and lean into it. Also, one of the most unique classes I took during my time as a MMM was a Segal class. It was a class around designing through the five senses, called Designing Product Interactions, where I got to work with engineering graduate students. Don't be afraid to take advantage of these opportunities!
How did MMM help you pivot in your career?
At P&G, I saw a lot of different examples of product innovations, and I saw MMM as a means to understand the successful and unsuccessful tactics and decisions behind the development of services, products, and experiences. Now I feel like I have a flexible skill set to take forward regardless of where I am.
Back to top