Rene Peters
Job before MMM: Technical Engineering Manager at Procter & Gamble
Job after MMM: Product Marketing Manager - Cloud Platform | OnRamp Rotational Program at Microsoft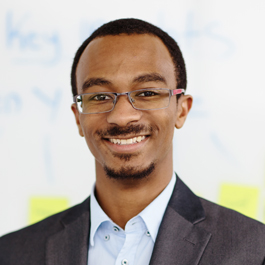 Hometown
New Orleans, Louisiana / Cincinnati, Ohio
Undergrad
MIT - Chemical Engineering
Job Before Kellogg
Technical Engineering Manager at Procter & Gamble
Activities at Kellogg
Section social chair, Black Management Association, BMA Conference, Kellogg Cares Day, Kellogg Club Soccer Team
Affiliated Programs
Why did you choose MMM?
In my P&G role, I was working on a product from a manufacturing and engineering perspective, but I always wanted to get closer to the decisions that change the product itself. MMM is giving me the chance to gain more experience in innovation. Eventually I hope to help people by developing social impact technologies.
What has been your favorite Kellogg/MMM memory?
My favorite Kellogg memory is sailing down the River Seine in Paris and drinking champagne in front of the Eiffel Tower with my new KWEST friends.
Some people would be surprised to learn that...
I used to be a child model. I did commercials and photo shoots for things like Duncan Hines, JET Magazine, Hasbro, and many others.

What's something you are really good at?
I am embarrassingly good at coming up with puns and corny jokes in the moment.
If you could have one superpower, it would be...
Ice power! It would have so many uses, like making ice paths to slide and get around Evanston, or to make little ice sculptures in my hand when I get bored in class.
Back to top