Matt Levatich
President and Chief Executive Officer, Harley-Davidson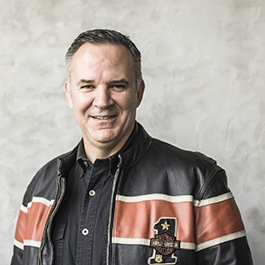 About
Matt Levatich serves as President and Chief Executive Officer of Harley-Davidson, Inc. Levatich joined Harley-Davidson in 1994 and held positions of increasing responsibility in the U.S. and Europe, including President and Chief Operating Officer of Harley-Davidson Motor Company, Vice President and General Manager of the Motor Company's Parts and Accessories business, Vice President of Materials Management, and President and Managing Director of MV Agusta. Prior to joining Harley-Davidson, Levatich held positions in engineering and in manufacturing management with FMC Corporation and Albany International Corporation. He holds an undergraduate degree in mechanical engineering from Rensselaer Polytechnic Institute. He received his Master's degree in engineering management and an MBA from Northwestern University. In addition to serving on the board of directors of Harley-Davidson, Inc., Levatich serves on the board of directors for Emerson, a global manufacturing and technology company based in St. Louis, and on the McCormick Advisory Council at Northwestern University.  
Q & A
How has MMM made a difference in your career?
I pursued the MMM degree program because I wanted to build more knowledge and perspective on the leadership of product-oriented companies; to build on my engineering background and passion for products with the business & leadership acumen necessary to play a more impactful role in advancing the prospects of product-oriented companies. This is the reason why I joined Harley-Davidson upon graduation in 1994, perhaps the ultimate engineered product company with a global business and a powerful brand rooted in precisely the passion we must apply in design, engineering, manufacturing, and supply. For me, this essential thread led me to the MMM program, guided me through it and pointed me to H-D, where my passion and capability could be applied and where I could also grow in applying it well.
What value do you think MMM graduates bring to industry now?
I like how the program has evolved over the years to face the highest needs of industry.  Where it began with a 'manufacturing' emphasis, evolved to build-out supply chain capabilities and sits now with a design orientation feels like a natural evolution, particularly the way design thinking is such a foundational approach to fixing the right problems in the right ways. 
What advice do you have for a student just starting the MMM Program?
Know thyself. Allow yourself to be drawn to what you want to do and who you want to be. Not a title. Not a position. A vocation. Serve others. Get things done for others. You will build advocates for who you are and what you get done. With this, and a 'heads-up, eyes wide open' approach, you will see opportunities that suit you and you will choose well. You will be where you are meant to be. You will enjoy a life well-lived.
Back to top