Claire Henderson
Managing Consultant, Digital Strategy & Innovation, IBM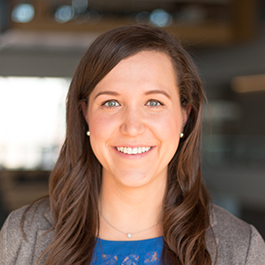 About
Claire began her career in sales and marketing at General Mills, working with customers from Aldi to SuperValu to Amazon to deliver superior in-store and online retail experiences for brands such as Nature Valley, Cheerios, and Yoplait. She launched over 30 new brands and became an expert in product distribution, sales forecasting, promotion and pricing, and localized marketing for brands across the country. Based on her experience developing a new snacks product for General Mills, Claire became passionate about how human-centered design thinking can impact not only retail experiences but also new product development processes within companies. She attended the MMM Program at Kellogg and interned at Medtronic as a Global Product Manager in their pacemaker division, focused on using human-centered design methods to drive new product innovation for the world's smallest pacemaker.  After graduating from the MMM Program in 2018, Claire joined IBM's Digital Strategy practice where she helps clients master the new product development and innovation management process and digitally transform to deliver new growth for the company.
Q & A
How has MMM made a difference in your career?
MMM has provided me with the toolkit to not only thrive in highly ambiguous, white space environments, but also has given me the strategic mindset to approach problem-framing differently. I have seen the impact it makes for clients in the design & innovation consulting space as companies try to enter new markets and build new products, but struggle to be customer-centric and comfortable with taking on risks. The divergent and convergent process flows we learned in MMM as well as the business model evaluation has helped me make a quick impact in my career post-Kellogg.
What value do you think MMM graduates bring to industry now? 
MMM students bring a multi-disciplinary perspective to product and innovation teams, which is critical for the success of those teams. We also understand how to speak not only the business side but also the technical and design sides and we are able to act as translators amongst a wide variety of people.
What advice do you have for a student just starting the MMM Program?
Enjoy the MMM summer! It's a unique time to get to know your cohort and explore Chicago. Take time to get to know your professors and immerse yourself in as many client experiences and design challenges as possible—don't be afraid to put yourself out there and take that risk you've been thinking about.
Back to top