Jeanne Gatto
Director, Pharmaceuticals Strategy – Baxter Healthcare Corporation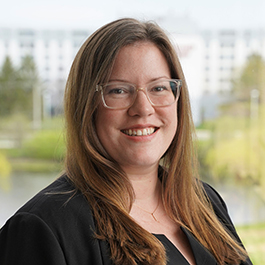 About
Jeanne Gatto is Director of Pharmaceuticals Strategy at Baxter International Inc. Jeanne joined Baxter in 2016 in their corporate strategy group, before shifting focus to R&D and innovation. Prior to joining Baxter, Jeanne was in management consulting at Boston Consulting Group, focused on helping companies build growth and innovation strategies, primarily in the healthcare industry. Jeanne is a 2013 graduate of the MMM program and has a B.S. in Mechanical Engineering from the University of Illinois Urbana-Champaign.
Q & A
How has MMM made a difference in your career?
MMM helped develop me into a balanced innovation professional – building skillsets at the intersection of design and business. Beyond what I learned in the program, the connections I made and the network I built have been critical to my career. I've stayed in touch with many of my classmates and frequently consult them to share best practices and learnings from implementing innovation processes at large organizations.
What value do you think MMM graduates bring to industry now?
In a large corporation, it is not uncommon for innovation to die at the hands of finance ("too many decisions made with spreadsheets" – per one of our innovation advisors). The creative people coming up with the ideas at the start of the process are often not equipped with the business skill set that is required to justify and sell the idea internally. The unique mix of business and design experiences that the MMM program provides positions MMMs well to help fight this dynamic in organizations.
What advice do you have for a student just starting the MMM Program?
Put yourself in uncomfortable situations. Seek out opportunities that are different, ambiguous, and will push you to learn. People that can manage uncertainty are rare and highly valued in the corporate world and this skill set can differentiate you from your peers.
Back to top