Seamus Donegan
Job before MMM: Consultant and Business Designer, Deloitte Consulting and Doblin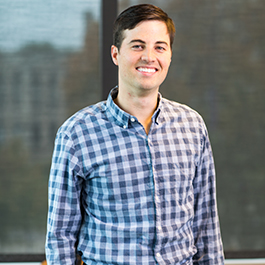 Hometown
Avon, NY
Undergrad
University of Notre Dame – Mathematics
Job Before Kellogg
Consultant and Business Designer, Deloitte Consulting and Doblin
Summer Internship
Business Designer, IDEO
Activities at Kellogg
Student Body President, Section Representative, Lead Vocalist in The Captains of Industry (one of the Kellogg Bands)
Affiliated Programs
Why did you choose MMM?
Growing up in a small town, I have always been a big believer in focusing on human-centered needs and building empathy with community members in order to more creatively and effectively solve problems. Through my time in strategy consulting, primarily in the food & beverage space, I completed projects utilizing human-centered design and became inspired by the process and subsequent outcomes. Eager to dive deeper, I wanted to return to an educational setting to refine and expand my innovation skill set. After visiting Kellogg and experiencing a MMM class firsthand, I was confident that the MMM Program was culturally and educationally the ideal next step in my growth as a leader in the increasingly disrupted food & beverage industry.
Entering the MMM Program, I knew that I didn't want to be a pure graphic designer, software engineer, or mechanical engineer, for instance – but rather, I wanted to be poised to work closely with a team with these diverse skill sets to co-create concepts and bring them to life. The MMM Program continues to deliver this experience for me. While an MBA education from Kellogg has helped me sharpen my management skills and leadership style, the complementing MSDI curriculum has helped me better frame problems and design products and experiences that effectively target human needs.
More broadly, the Kellogg culture is rooted in true collaboration and inclusivity – a combination that naturally fuels an innovative environment. With both MBA and MSDI curricula and a highly innovative environment, the MMM Program has proven to be a fantastic graduate school experience.
What is life like as a MMM student?
One of my favorite elements of the MMM Program was the first summer we spent together. I thoroughly enjoyed spending those months getting to know my classmates, their JVs, and the Kellogg community, both inside and outside of the classroom. That summer was exceptionally special for me, as my wife and I also got married. Unbeknownst to me, the MMM cohort orchestrated a surprise party for us the week after our wedding. I will never forget walking into the surprise party and realizing that this was not only a party for my wife and me but also was hosted by 65 people I did not know six weeks prior. To me, this was one of many experiences that exemplified the extraordinary environment of the MMM Program and Kellogg.
The MMM Program was further amplified once the fall quarter began. I dove into KWEST, CIM, and the Section experience, as fantastic opportunities to broaden my community beyond the MMM cohort. Inspired by this community, I subsequently ran for Section Representative and then Student Body President, where my team of peers from many Kellogg programs currently work to build upon the fantastic Kellogg experience. The role, although challenging, has been extremely rewarding. 
At the end of the day, it is fantastic to know I have a "home" both within the MMM community and as a member of the broader Kellogg community.
How did MMM help you during your summer internship?
I spent this past summer as a Business Design Intern at IDEO, in their "Design for Food" studio in San Francisco. I joined this studio of ~40 IDEOers which focuses on making a sustainable change within our food ecosystem – from agriculture to food & beverage, and even from restaurants to the "food as medicine" space. As shared by IDEO prior to the internship, interns were expected to "hit the ground running" as full team members. Reflecting back on my first year in the MMM Program, I was grateful for classes like RDB that helped prepare me to contribute to the team on "day one." Much of the IDEO experience involved items covered in the RDB classroom – ethnographic interviews, synthesis, and prototyping to uncover the insights that would propel us forward.
Culturally, I found both IDEO and the MMM Program to be communities where I was able to bring my authentic self and grow among others. Every team member was encouraged to ask questions, respectfully build upon and challenge each other's ideas, and bring anecdotes from lived experiences. For our project in agriculture, I utilized my background in dairy farming to provide our team with another novel perspective. My summer internship at IDEO was a fantastic and rewarding experience where I could refine my prototyping craft, serve clients through design thinking, and contribute to meaningful change in the agriculture space – applying what I learned from my peers and professors to help our team tackle challenges in the food ecosystem.
Back to top